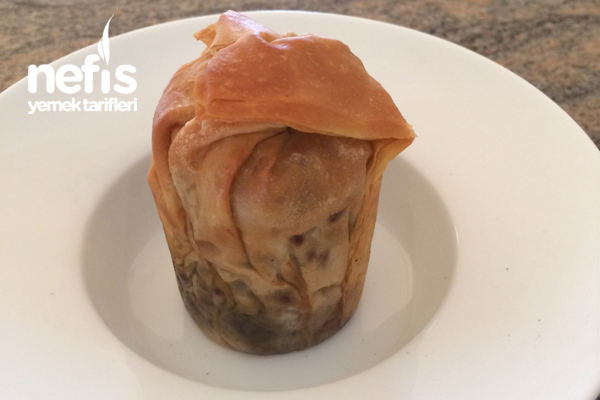 <br />
Materials for Definition of Phyllo Muffins
1 muffin container (12 pieces from Ikea)
2 pieces of dough or 1 pack of Strudelteig
1 tea glass of olive oil
Internal Mortar;
150 g Minced Meat
1 Onion finely chopped
1 clove Garlic
1 eggplant
Half a bunch of parsley
2 tablespoons of olive oil
Salt
Pepper
Yufkalı Muffin Definition Definition
Lubricate our muffin mold and let us heat the oven for 180 c.
For the inner mortar, turn the onion and garlic in olive oil heated in a pan. Add the minced meat and cut into cubes. Add the eggplants and fry them sufficiently.
Put out the heat with half a glass of water on top and cover the ceiling and cook until the eggplants are cooked. Add salt, pepper and parsley and set aside for warm.
Spread our dough on the counter and brush it on olive oil with a brush and fold the dough in half and apply it once more with olive oil. Cut the dough into 6 rectangular modules and place it in the muffin bowl, put a tablespoon of ground meat in the middle of the minced mortar, combine the dough with your hands and cover it. Run the 2nd batter until you make 12 Muffin bundles. Spread olive oil on the back, put it in the middle of the oven and cook until golden brown.
Enjoy your meal.