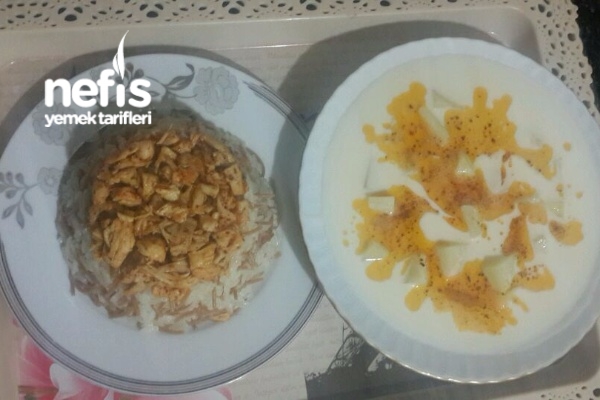 <br />
Materials for the Definition of Potatoes with Yogurt and Chicken with Rice Sauce
For the soup:
3 cups of yogurt
1 egg
1 teaspoon salt
3 cups of water
3 diced potatoes
1 cup boiled chickpeas
For chicken with sauce:
300 grams of small chopped chicken
1 tablespoon butter
1 tablespoon of liquid oil
1 soldier teaspoon Pulbiber, black pepper
1 teaspoon salt
Potatoes with Yogurt and Chicken with Pilaf Sauce Definition
First, add 3 cups of yogurt and 1 egg, salt and 3 cups of water to our medium pot, whisk with a mixer for 5 minutes. Then it is taken to the stove and mixed until boiling. When boiling begins, 3 cubes of diced potatoes are added and left to cook. (After chopping the potatoes, you can boil it in water and add it to the soup. I cook it in the soup I have prepared with yogurt. It is more delicious.) When the potatoes are cooked, 1 cup boiled chickpeas are added and boiled a little. For it, a little liquid oil and butter are taken to the pan, heated. 1 tablespoon of pulbiber is added. This sauce with pulbiber butter is added while serving the soups taken in the bowls.
Later on, a stylish buttered rice is made. I add 1 cup of rice and 2 cups of hot water. After the rice is ready, let's make chicken with sauce. Let's take some liquid oil in our pan and cook our diced chicken, cook until golden brown. Let's add some cayenne pepper and black pepper to a very small amount of cumin on the fried chicken. Before we turn off the fire, let's put half a tablespoon of butter and mix it. Our chicken is also ready.
While serving, let's put the 5.5 tablespoons of the sauce with the chicken we prepared before, then put our pilaf lightly, fix the surface and turn it against our service bag.
Enjoy your meal. 🙂