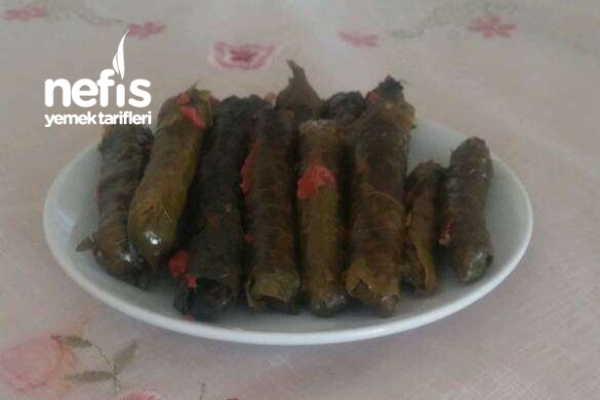 <br />
Equipment for Olive Oil Wrapping Definition
Half kg of pickled vine leaves
Half a glass of olive oil
2 and a half cups of hot water
Half a lemon juice
1 tablespoon tomato paste
Internal mortar:
2 medium onions
1 tea glass of olive oil
1 tea glass split
2 cups broken rice
1 tablespoon of mint
1 teaspoon black pepper (wipe)
1 teaspoon black pepper
1 teaspoon cumin
1 teaspoon of paprika
1 teaspoon salt
2 tablespoons tomato paste
1 bunch of parsley
1 cup of hot water
Olive Oil Wrapped Definition Preparation
Inner mortar: We finely chop our onions and roast them in olive oil, add our tomato paste and add washed rice and cut and cut the bottom of the stove properly. Add the spices and fry for 5 minutes. We add hot water on it, wait for it to absorb for 5_6 minutes and add the finely chopped parsley and mix and cover the bottom. While the inner material is cooling, we wash our leaves with hot water 2 times with cold water 2 or 3 times. Place and wrap from the inner mortar compared to the small size of the leaves. If there are no leaves torn at the bottom of the pot you are cooking, put a few leaves and fill them, so that there is no space left. Add hot water, olive oil and lemon to the pot and cook on low heat for 35-40 minutes depending on the type of leaf. Bon Appetit.