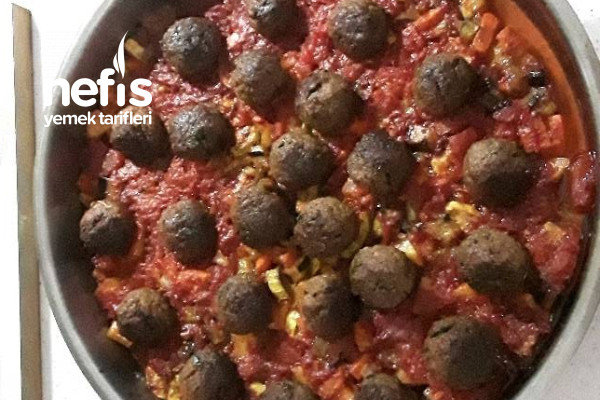 <br />
Materials for Definition of Vegetables in Misket Flat Baked Oven
For the meatballs;
250 grams of minced meat
1 small onion
2 cloves of garlic
3 or 4 parts parsley
2 or 3 arms fresh mint (optional)
1 teaspoon of mint
1 teaspoon thyme
Take 1 teaspoon ground pepper
Half a teaspoon of cumin
Half a teaspoon of black pepper
Half a teaspoon of chili peppers
Breadcrumbs to consistency pitch
Low measure of liquid oil
For vegetables;
3 small length potatoes
2 eggplants
2 zucchinis
2 green peppers
1 carrot
2 nectarine onions
3 cloves of garlic
1 tablespoon of pepper paste
1 tomato grater
To fry;
Definition of Making Vegetables in Misket Flat Baked Oven
First, let's knead our meatballs with all our ingredients and knead them, then shape our meatballs for marble and put them in the refrigerator for rest.
Let's chop our vegetables little by little.
First, let's fry the potatoes, then zucchini, eggplant, pepper, carrot in a little oil and put them in the tray we will cook.
Let's fry the onion and garlic that we chop in a frying pan, and pour over the vegetables.
Let's open the pepper paste and tomato grater with a glass of hot water and pour over the vegetables we mix.
Let's fry our meatballs a little and arrange them on the vegetables and bake them in the oven heated in 180 degrees until it draws its juice.
Enjoy your friends.