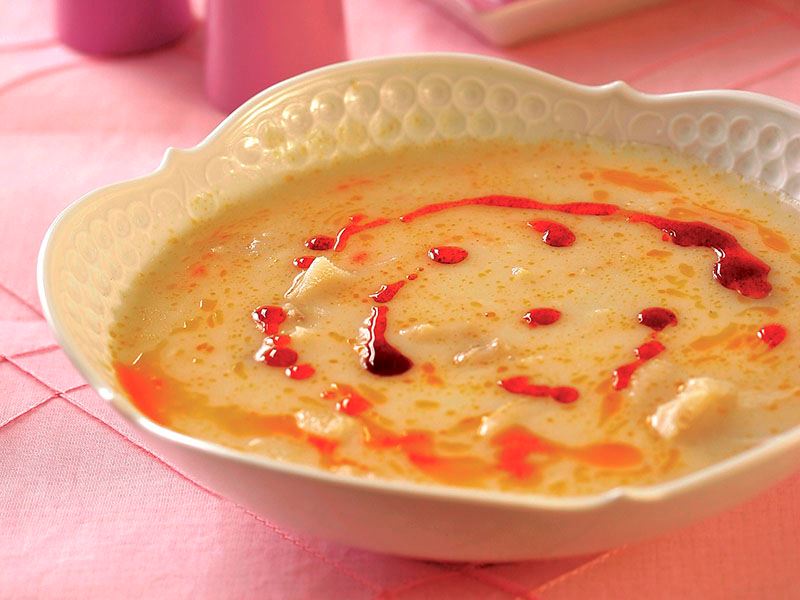 <br />
Utensils for the definition of tripe soup
Materials
500 g of sheep or beef rumen
1 tablespoon of salt
10 cups of water
2 cups of milk
1 tablespoon flour
2 tablespoons of oil
2 teaspoons of salt
For dressage
For Above
50 g margarine
Take 1 teaspoon ground pepper
For the sauce
juice of 1 lemon
6 cloves of crushed garlic
2 tablespoons of vinegar
Take 1 teaspoon ground pepper
First, wash the rumen that you will use. Rub 1 tablespoon of salt and wash again.
Put milk in a glass container and add the rind to the milk and let it soften for 2 hours.
After this process, wash the rest of the rumen and chop them into small modules and put them into the pot. Add 8 cups of water and cook for 80 minutes until soft.
Heat the oil in the pot and add the flour. Fry until flour turns yellow. Add 2 cups of water to the water of the rumen and mix. Sprinkle with salt and cook over low heat.
For finishing, whisk the egg and lemon juice. Pour the finishing into the soup little by little and mix quickly. Boil and remove from the stove.
Finally, melt the margarine in the pan, heat the powder pepper and roll it over the soup. Mix the sauce ingredients in a bowl. Share the soup in the bowls and add 1-2 spoons of sauce.
You can serve the tripe soup together with the stuffed peppers with olive oil. Enjoy your meal in advance.
What are Tripe Soup Tricks?
In order to reveal the taste of the rumen, cut the greasy parts before starting the recipe.
In salt rubbing process, you can clean it more easily by using rock salt.
You can also remove the oil remaining in the rumen after the cooking process.
While preparing the sauce, you can heavy the consistency by using butter on the margarine side.
1 Portion of Tripe Soup How Many Calories?
A bowl of tripe soup, which is very popular in Turkish cuisine, is about 265 calories. You can extract the meat's fat to lower the calorie cost.

If you prefer home made soups to ready-made packages, you can browse the definition of lentil soup that is not missing from the kitchens and enrich the start menus. If you wish, you can try different soup definitions.