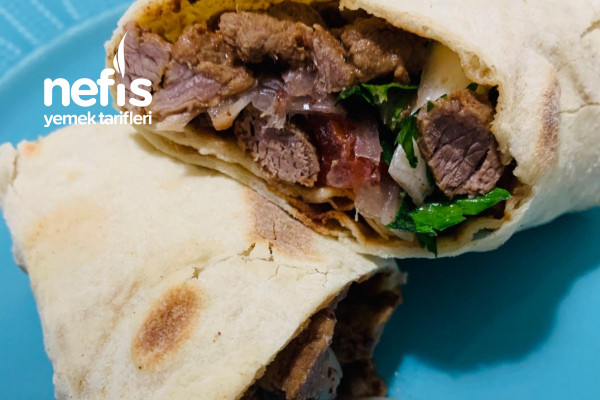 <br />
Materials for Tantuni Definition
For lavash material:
150 ml warm water
150 ml of warm milk
Half a pack of yeast
1 teaspoon of sugar
1 teaspoon salt
1, 5 tablespoons
Liquid oil
500 g flour
for the inner mortar
750 gr tiny chopped lean beef
Sweet powder pepper
Liquid oil
Water
Tantuni Definition Preparation
Hello everyone, these days we spend plenty of time in the household, we have the opportunity to make many dishes that we could not make from the lack of time. I made meat tantuni today. It was very nice.
Let's start by kneading our lavash dough first. After mixing all the ingredients except flour in the dough kneading machine, we slowly add the flour in a controlled form to obtain a soft consistency.
We leave the dough we stretch to ferment for 40 minutes. In the meantime, let's start cooking our meat by putting enough water in a frying pan.
Let's cook the diapers that we have separated from our fermented dough by opening them in the size of a serving plate and turning them continuously without drying them in the pan.
Let's put the cooked lavash between the two covers and prevent it from drying. When the meats draw water, let's add sweet pepper and liquid oil.
Let's cover lavash on the meat cooked and absorb its oil and water. Now we can now wrap our tantiunes.
Let's put meat, tomatoes, parsley and onion with sumac and wrap. Have a delicious taste with ayran beside you, enjoy your meal ????.