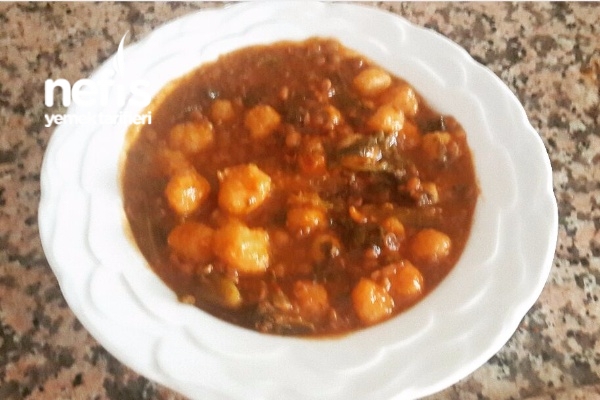 <br />
Equipment for the Definition of Meatball Meatball with Spinach
1 Kilo Spinach
1 Glass of Green Lentils
2 Pieces of Onion
2 Tablespoons Tomato Paste
2 Cups Splitting
1 Scoop Flour
1 Spoon Semolina
2 glasses of water (we will separate the lentils from the water we boil)
3 Tablespoons Plum Sour
Salt
Description of Spinach Sour Meatballs
Hello there,
It is one of the Eastern dishes that I like very much.
Its image is not very attractive but its taste is very elegant 🙂
Its name may vary compared to the regions.
I recommend you to try.
Let's move on to our definition,
We make our dinner in three stages.
First, we wet our lentils, drain the black water and boil it until it softens. When boiled, we filter the water and separate 2 Cups of water from the water we filter.
In the second stage, we knead our halves with flour, salt, semolina and (sufficient amount) water. We turn it into a soft dough. We take small cuts from the dough and roll it into oak, we boil for 20 minutes. We make it ready.
Finally, we chop our onions and cook them.
We add our tomato paste. We wash our spinach and chop it and add it to our tomato paste. We also add the remaining water from lentils, the lentils we boiled and the mesh we have boiled. We cook until it is missed.
We add plum sour and salt to taste.
Our food is ready.
Bon Appetit 🙂