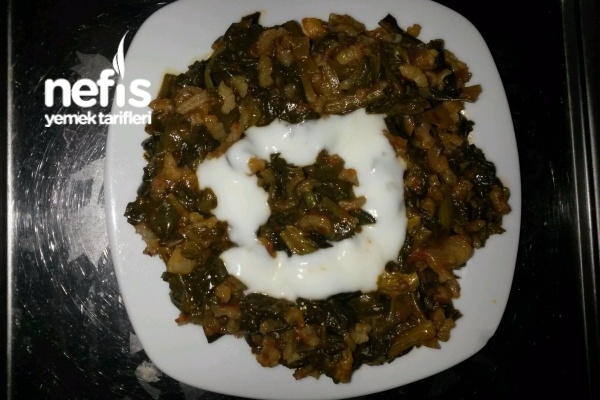 <br />
Materials for the Definition of Spinach Borani Pomegranate Sour
1 kg spinach
1 large onion
One finger from half a glass of water a lot of rice
1 tablespoon of pepper paste
If there is no tomato, 5 tablespoons of canned tomatoes
1 tablespoon pomegranate molasses
3 tablespoons of olive oil
Salt, pepper, black pepper
1 tea glass of hot water
For
Above;
2 cloves of garlic
If there is no strained yogurt, the dehydrated portion of your own household yogurt
Salt-pepper
Definition of Spinach Borani Pomegranate Sour
Spinach is kept in vinegar water, washed sufficiently and drained.
Add the olive oil and the cubes that we chop into the pot, add the tomato paste when the color becomes transparent, mix and add the spinach we chopped on it. (Spinach will drop its juice before and then pull it off)
Spinach that we added is mixed, tomatoes and spices are added on the hengam it is extinguished. At this stage, the water of the tomato and spinach is competent, but if it has drawn too much water, hot water is added. When the water of the dish boils, the rice we wash appropriately is added. Cook for 20 minutes. We can check the rice and understand that the food is cooked. After cooking, pomegranate syrup is poured over, mixed and left for 5 minutes.
Garlic is crushed with salt and mixed with yoghurt and mixed.
It is poured by pouring the first temperature over the food. Bon appetit everyone.