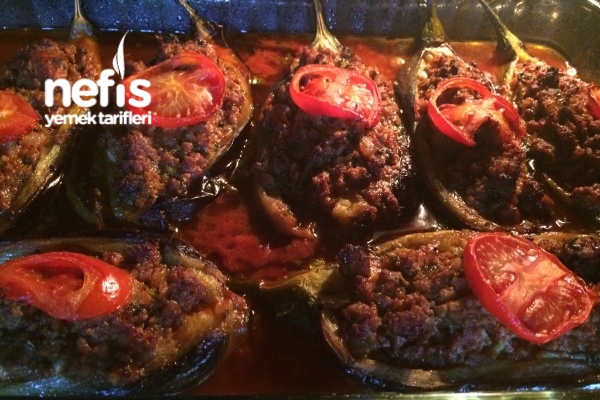 <br />
Materials for Definition of Baked Belly Cleft
For the inner mortar:
150 gr beef mince
2 tomatoes (can also be canned tomatoes)
2 medium onions
Half a bunch of parsley
1 teaspoon black pepper
1 teaspoon cumin
1 teaspoon salt
Olive oil
For
Above:
4-5 green peppers
4-5 cherry tomatoes
For the sauce:
1 tablespoon of pepper paste
1 glass of water
To fry:
Bakin Stomach Slot Definition Definition
First of all, we peel the eggplants with stripes so that the stems are not broken. We scratch the eggplant with a knife, not too deep. We put very little liquid oil in the pan we are going to fry and fry until the eggplants are light pink.
While preparing the inner mortar, we cut the onion as a edible and roast it in olive oil until it turns pink. Then, we throw the minced meat, roast it until it is recovered and add the tomato grated black pepper cumin and salt. When we have a little water, we add the parsley that we chopped and cover the bottom.
We put the eggplants on the tray that we are going to bake and divide them from the inner mortar. We divide green peppers and cherry tomatoes into two and arrange them accordingly. We pour the water and pepper paste sauce that we prepared on the tray and put it in the oven. It is ready to serve after cooking for 30 minutes. Bon appetit everyone.