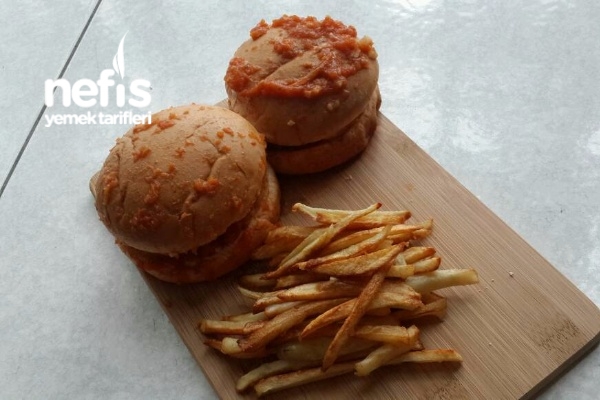 <br />
Materials for Real Wet Hamburger Definition
First of all, let me state that a very practical definition is a very enjoyable food for both your guests and your children.
4 pieces of hamburger bread
For the sauce;
2 tomatoes
3 cloves of garlic
1 teaspoon of granulated sugar
For the meatballs;
250 gr minced meat
1 teaspoon cumin
1 teaspoon of black pepper
1 teaspoon salt
1 clove of garlic
3 tablespoons breadcrumbs
Real Wet Hamburger Definition Made
Let's make our tomatoes rondo to make our sauce. Put the olive oil in the pan and chop 2 cloves of garlic in small pieces. After adding the garlic a little, add the tomato and add the sugar. For about 15 20 minutes, let's cook the tomatoes until they release themselves and become sauces. On the other side, let's mix all our meatball ingredients, put a little oil in the pan and cook our meatballs lightly (let's cook one side for 3 minutes, and cook the informal side when it is 3 minutes without too much hitting.)
Put our Hamburger Breads in our Sauce when we eat the sauce without spreading much, let's put our meatballs in it.
We can serve hot. If you wish, you can serve it with fries. Enjoy your meal in advance. . . .