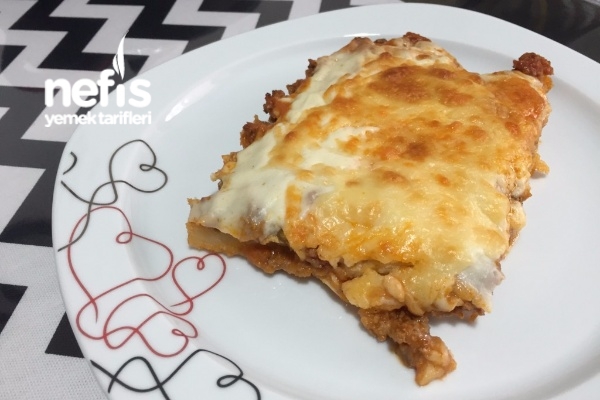 <br />
Tools for Potato Seating Definition with Bechamel Sauce
For the inner mortar;
Half a kilo of minced meat
5 green peppers
5 tomatoes
3 medium onions
1 tablespoon tomato paste
2 cloves of garlic
3 tablespoons of liquid oil
Bechamel sauce;
2 cups of milk
1 tablespoon butter
1, 5 tablespoons flour
Pepper
Salt
Sauce;
3 tablespoons of tomato paste
3 cups of water
Half a tea glass of liquid oil
For
Above;
Potato Seating Definition Definition with Bechamel Sauce
We slice the potatoes round and fry them.
Internal fee;
We roast the minced meat until the lean beat changes. We add onions and liquid oil to the ground beef that changes color and continue to roast. After roasting in onions, we add the peppers and roast them, then peel the tomatoes, add the salt, garlic and tomato paste and cook them until the tomatoes get their juice.
Bechamel sauce;
The butter is melted beforehand and flour is added on top and light roasted. Then milk and salt are added and mixed quickly. After boiling for 2 minutes, it is taken from the stove and poured hot.
We string the potatoes that we lightly grease and fry our tray. We pour the inner mortar we prepared on it. For the sauce, we mix the water with tomato paste, oil and pour it into the tray. We cover the tray with foil and put it in the oven, which we heated at 200 radios, and cook it for 30 minutes. We take our tray out of the oven, remove the foil, pour béchamel sauce on it, put it in the oven, take it out after 15 minutes, pour grated cheddar on it and cook until golden brown.
Bon Appetit ????