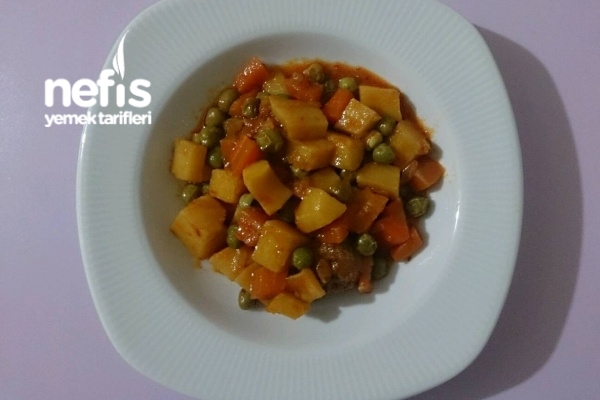 <br />
Equipment for Meatball Pea Definition
For the meatballs;
200 grams of beef mince
Half a tea glass of breadcrumbs
Salt, chili pepper, black pepper
2 carrots
2 potatoes
1 nectarine onion
1 tablespoon tomato
1 tablespoon butter
1 tablespoon of liquid oil
3 handfuls of fresh peas
Definition of Meatball Pea Making
First of all, we prepare the meatballs. We mix all the ingredients for the meatballs, knead properly and make slightly smaller meatballs than walnuts.
We chop the onion and cook it until it turns pink.
Then add the meatballs and sauté for 2_3 minutes.
After adding the tomato paste and turning it a little more, we add the diced potatoes and carrots.
Add hot water until it is covered and cook for 10 minutes.
Then we add the peas, cook for another 10 minutes and cover the bottom of the stove.
We can rest and serve for a few minutes. Bon Appetit.