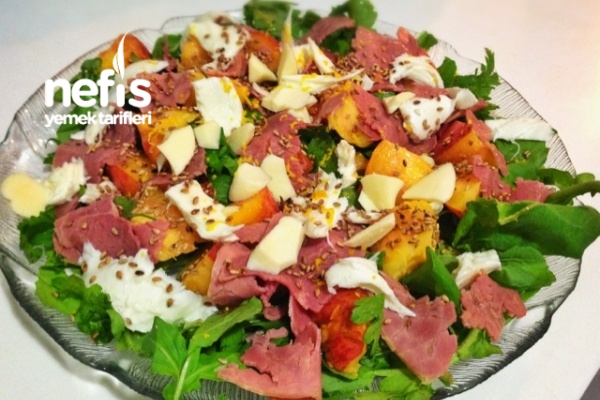 <br />
Peach Salad – Materials for the Definition of 121 Kkal / 100g
Arugula 2 handfuls (1/2 (half) bunches)
Lamb's ear 2 handfuls (1/2 (half) bunches)
1 handful of parsley
Peach 1 hate length (100g)
Fume meat / turkey 60 g (very finely cut)
Mozarella cheese / organic cheese (50g)
Sesame 1 teaspoon dessert spoon (5g)
Olive oil 1 tablespoon
Freshly squeezed lemon juice 1 tablespoon
Lemon zest 1 tablespoon
Spices compared to salt flavor
Peach Salad – 121 Kkal / 100g Definition Preparation
1 serving (338 grams): Kkal 408.40; Protein 21.68 g; Oil 31.99 g; Carbohydrates 15.05 g
Service: 1 serving (as main course)
This salad is a description of Jamiye Oliver. This is not just an ordinary salad, it's an art! You will be amazed how delicious it is. The pain of rocket, peach dessert, fume aroma of meat, fresh milk taste of cheese, smell of unique quality olive oil and freshness of lemon bring together a super combination! I put a little roasted sesame on it (any sweet fruit fits well).
I think make this salad immediately without thinking !!!! I did it this way and I would do more;)
1) Put sesame seeds in a small pan and fry for about 3 minutes until golden color
2) Take the peach kernel and cut it in their hands.
3) Cut the mozzarella cheese and meat exactly
4) Take a large flat plate, lightly tear off the herbs, place peach, meat and cheese cuts on it
5) Finally, sprinkle sesame and lemon zest on it and run it with oil and lemon juice.
6) Enjoy this stylish salad look before eating 🙂
Bon Appetit!