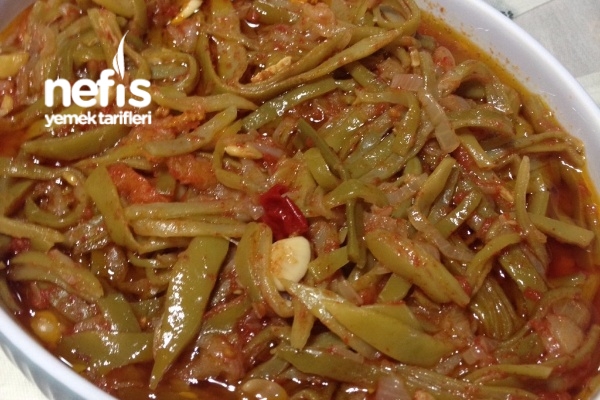 <br />
Materials for Definition of String Bean with Olive Oil
1 kg string beans
3 onions
3 tomatoes
Half a spoon of tomato paste or 1 spoon of tomato sauce
1 pick pepper
3 outer garlic
1 teaspoon of granulated sugar
Salt
1 tea glass of olive oil
Definition of Making Olive Oil Shrub Beans
We cut the shrub beans into thin strips longitudinally. We wash it and put it on the filter.
Meanwhile, we are preparing the inside. We chop onions and light pink in olive oil.
We peel the tomatoes and cut them into cubes, cut the garlic and pepper and add them to the onions.
When the tomatoes are a little soft we add the beans. We do not close the lid of the pot so that it does not darken.
When the beans release the water and wrap it, we add the salt and sugar and add hot water until it is cooked on medium heat. If you are going to cook in the pressure cooker, put less water.
Bake until softened compared to the condition of your beans.
Cool it in the cooked pot and pour it into the serving plate, cool it in the refrigerator and serve it. It will be more delicious if you are the next day. Bon Appetit.