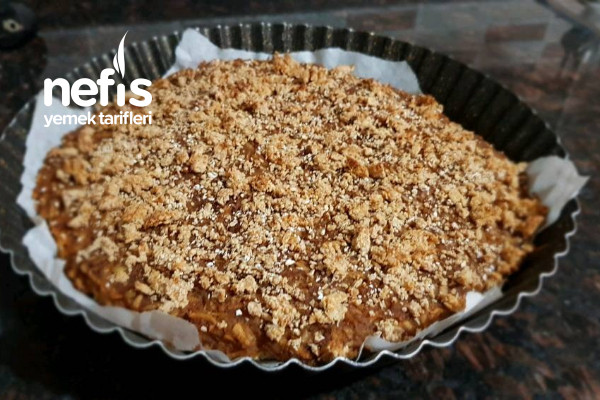 <br />
Tools for the Definition of Apple Pie with Oat Molasses
For the base:
2 eggs
4-5 cups ground oats
1 tablespoon of coconut oil
1 vanilla
1 cup of crushed walnut
For the mortar:
buy 4 or yellow apple
1 tablespoon of molasses (optionally, 2 tablespoons can be placed. It was not very sweet that I made.)
1 teaspoon of cinnamon
1 teaspoon of carob powder
For
Above:
1 cup ground oats
1 fig or palm
1 tablespoon sugar-free peanut butter
Definition of Apple Pie with Oat and Molasses
First of all, apples are grated and molasses on a low heat, cinnamon and optionally carob is added and cooked on low heat. I have started using carob powder (I copied from my mother), which has been beneficial for both sweet and sweet, as well as cocoa flavor.
While making the base, mix the egg and coconut oil and add vanilla, oat and walnut to form a dough that will not stick to your hand.
Spread the greaseproof paper compared to your pie container and spread on it. There will be a base for a cheescake base. Bake 200 steps for 10 minutes lightly and add the apple mortar.
Mix 1 cup of oatmeal, 1 fig or palm 1 tablespoon of sugar-free peanut butter on the rond. Sprinkle them into small pods on your pie.
200 dots cook for another 15-20 minutes.
Your healthy pie without sugar and flour is ready.