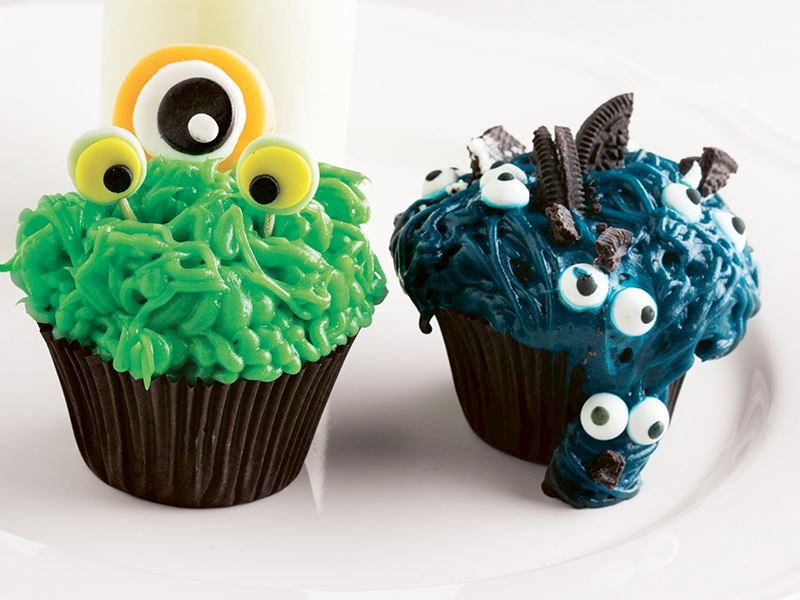 <br />
Materials for the definition of monster cupcakes
For monster cupcake
100 g granulated sugar
125 g butter (Soft)
2 eggs
140 g flour
1 teaspoon baking powder
1/2 teaspoon baking soda
2-3 drops of bitter almond oil
For pastry cream
250 ml milk
60 g granulated sugar
20 g butter
3 egg yolks
50 g flour
1/2 vanilla stick
Blue color gel nutrient dye
  How to make Monster cupcakes
Perfect for the children to decorate with cream monster cupcakes
Put the powdered sugar and butter in a mixing bowl and whisk with a mixer. Add the eggs and mix well. Sift flour, baking powder and baking soda and whisk until homogeneous. Add the last bitter almond essence and mix the cake mortar evenly into the cupcake molds once by mixing it. Bake in a preheated 175 radde oven for 20-25 minutes.
Put the milk and the seeds of the vanilla stick in a pot and boil. In a mixing bowl, beat the egg yolks with the granulated sugar, add the flour and mix.
Add the egg mixture to the boiling milk by mixing and cook on low heat until it becomes a pudding. Add the butter in the ready-made cream and mix until it melts properly.
Cool at room temperature with occasional stirring. Add the little paint to the cooling pastry cream and mix. Fill the special lampholder into the squeezing bag you are wearing and leave it for 30 minutes. Then decorate the monster cupcakes as you wish and serve.
Click for the definition of delicious cherry chocolate cupcake.