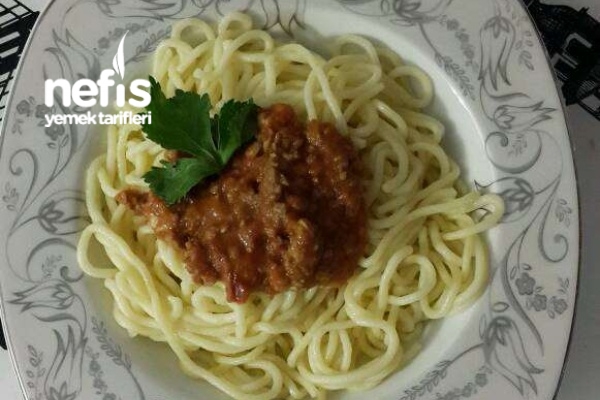 <br />
Equipment for Minced Pasta Definition
1 pack of spaghetti
1 meat bouillon
Half a glass of milk
1 teaspoon salt
2 spoons of olive oil
1 tablespoon butter
3 tomatoes
4 cloves of garlic
1 spoon of tomato paste
200 gr minced meat
Separate 1 scoop of pasta water from the water you boil. Before filtering
Mince Pasta Definition Preparation
We throw bouillon, milk and salt in boiling water and boil our pasta. After separating a bowl from the water, we filter it. We melt our butter in the pot. We throw and lubricate our pasta. We cover the gold.
We roast our minced meat in the pan. Then we mix the tomatoes and the grated garlic with our minced meat. We also throw our tomato paste. We also add the pasta water we have separated into our sauce and we wait for it to close and cover. We open the lid at the last boils to draw the water. We boil it open and the sauce is ready. Bon Appetit 🙂
I serve it with plain yogurt next to it.