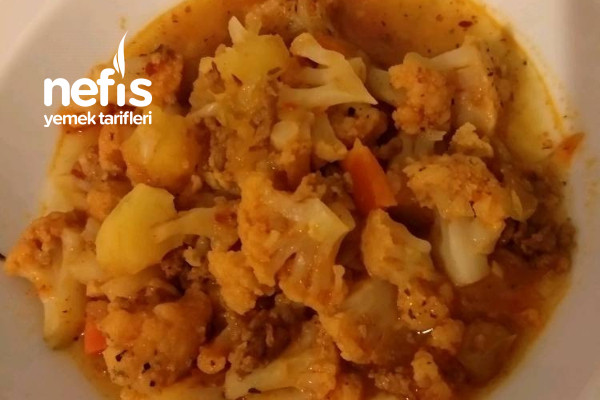 <br />
Materials for the Definition of Ground Beef Cauliflower Meal
1 medium cauliflower
100 gr minced meat
1 nectarine onion
2 green peppers
2 cloves of garlic
2 medium length potatoes
1 carrot
Half a glass of liquid oil
1 tablespoon tomato paste
Salt
Buy pepper
Mint
Mince Cauliflower Meal Definition Definition
First, let's wash the cauliflower and cut it into portions.
Let's cut the carrot and potatoes into cubes.
Let's chop the onions, peppers, garlic and cook with the carrots in oil (I added carrots in this first stage as the carrots are cooked late).
After roasting a little, let's add the minced meat and roast it until it releases its water. Then add the tomato paste and fry a little more.
Then add the cauliflower and mix.
Let's add enough water and let it boil and let it boil.
Let's add the potatoes when cauliflower softens a bit (I put the potatoes last because cauliflower is cooking later than potato).
Finally, let's add some peppers and mint close to the bottom and close the bottom.
Bon appetite to those who will try.