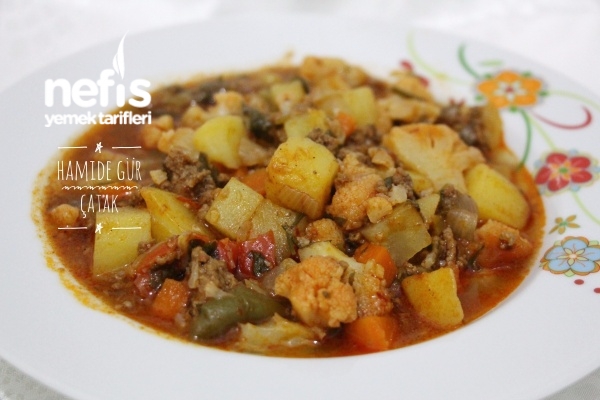 <br />
Equipment for the Definition of Ground Beef Cauliflower Meal
1 small cauliflower
liquid oil
2 medium onions
200 grams of minced meat
1 tablespoon tomato paste
1 teaspoon pepper paste
3 cloves of garlic
3 medium length potatoes
1 green pepper
1 take pepper (if not 1 green pepper)
1 carrot
Half a bunch of parsley
Salt
A little bit more black pepper than 1 teaspoon
1/2 (half) teaspoon cumin
1 tablespoon of lemon juice
3 cups hot water
Mince Cauliflower Meal Definition Definition
If you do not like cauliflower for me, I would say give my tarf a fortune I reach a recipe I can love by adding small differences to the dishes that I do not like. This dish was also very nice.
First, wash the cauliflower and divide it into branches. Chop the carrot into tiny cubes, the potatoes into cubes, and the peppers to the edible.
Chop the onion and cook in oil. Add the minced meat and fry the water until it is released. Add the paste and fry until the smell comes out.
Then add the potatoes, carrots, cauliflower, peppers and chopped garlic and fry on low heat for 10 minutes. Add salt, pepper, cumin, lemon juice and 3 cups of hot water. When it starts to boil, cut the bottom of the stove. When the potatoes soften, add the parsley you chopped and turn off the stove after 2-3 minutes. You can serve when the first heat comes out. Bon Appetit.