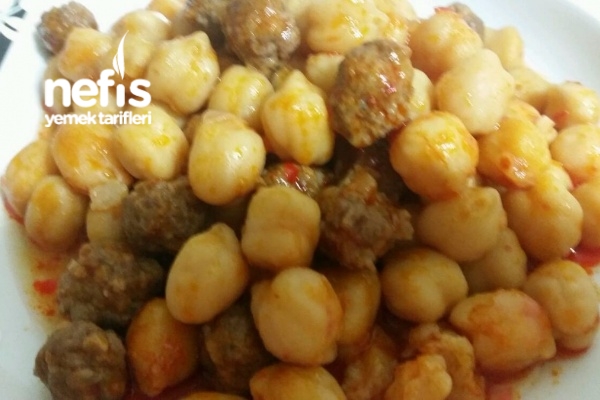 <br />
Equipment for Meatball Chickpea Definition
Half a kilo of soaked chickpeas
100 grams of minced meat
2 onions
4 cloves of garlic
1 tablespoon tomato paste
Half a tablespoon of pepper paste
2 tablespoons of butter
1 teaspoon of paprika
3 cups hot water
Definition of Meatball Chickpeas
Have a nice day:
I used the minced pork from chickpea from the ravioli grout.
We grate one onion with two cloves of garlic and add it to the mince, add the salt and the spice we want and knead. It squeezes the onion juice. We make small meatballs and prepare them.
We chop one onion and two garlics into our pot and start roasting with our oil. After roasting, we add the tomato paste. We also put our meatballs and slowly sauté them without crushing the meatballs. After they are sealed outside, we add boiled chickpeas, put the salt and pepper and add the water. When it starts to boil, we cook until it softens on low heat. Enjoy your meal.