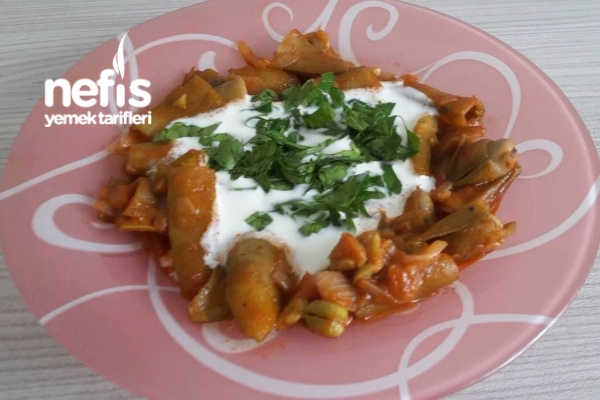 <br />
Main Method Materials for Definition of Delicious Broad Beans Meal
Half a kilo of pods
1 nectarine onion
1 tablespoon of liquid oil or olive oil
1 tablespoon tomato paste
1 tablespoon flour
Ground pepper, pulp pepper, black pepper, salt
1 sugar cube
1 cup boiling water
1 pinch of dill
For
Above:
Garlic yogurt
Parsley or dill herb
Main Procedure Definition of Delicious Broad Beans Meal
Hello friends, today I will share with you my definition of very healthy, main style broad bean meal. I love this dish with free yogurt. Let's move on to our definition. ????
First of all, we are correcting our onions as edible. We start roasting in oil. Then we add the flour and tomato paste. We continue to mix. We also add the broad beans that we wash and chop. Finally, we add the spices, salt and sugar. We add boiling water and continue to cook under the stove and cook. It takes about half an hour to cook. After cooking, we chop 1 pinch of dill and add it to our food. We close the mouth and cook in this form for about 2 minutes.
While putting our food into service, let's pour the garlic yoghurt on it. Let's decorate our food with dill or parsley.
I hope you like the very healthy broad bean meal. Our food is ready to serve. I thank my friends who will try it already. Yours ❤