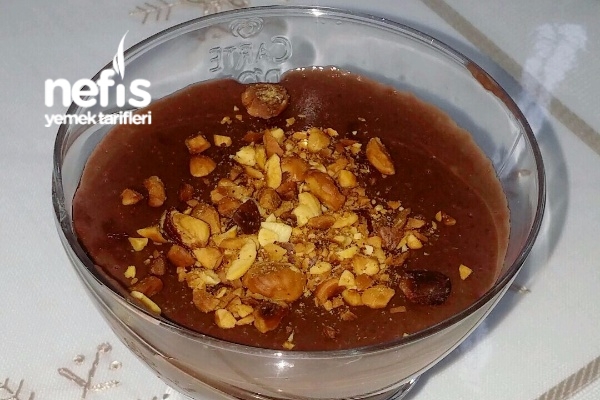 <br />
Materials for Light Pudding Definition
2 cups of milk (400 ml)
2 topping tablespoons oat bran
1 tablespoon of cornstarch
1 heaped tablespoon of reduced-fat cocoa
1 teaspoon of vanillin
1 medium banana
3 dates
3 tiny square dark chocolate (15 g) (optional size can be increased or decreased)
Optional half a lemon zest
Light Pudding Definition Preparation
1 cup (200ml) milk is poured into a deep bowl. Banana is crushed in milk with a fork. 3 dates are cut into tiny mixes. Then, this mixture is left for about an hour, stirring occasionally. In this way, the aroma of dates will be mixed into the milk properly.
Vesair 1 cup milk (200 ml) is put into the pot on low heat. Add oat bran, cocoa, corn starch and mix until boiling. When it boils, add the banana palm milk mixture and wait for it to boil by mixing again. When it boils, add 3 little chocolates and vanilla.
There will be 2 cups of this mixture. I decorated it with 1 teaspoon of hazelnuts. If you wish, you can enrich it with 1 teaspoon of peanut butter or coconut.