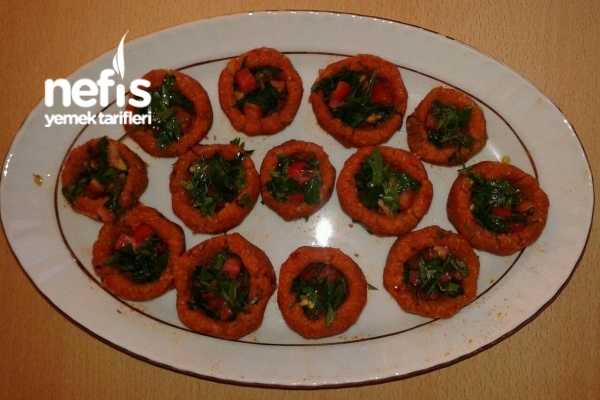 <br />
Materials for Lentil Patties Definition
Take 2 cups of lentils
4, 5 cups of water
1 cup fine bulgur
barda cup olive oil
1 medium onion
1 tablespoon tomato paste
1 tablespoon of pepper paste
5-6 arms of fresh onion
½ vineyard parsley
1 teaspoon of paprika
1 teaspoon cumin
Salt
Pepper
Lentil Meatball Description Definition
Boil the lentils in water until tender. Boil the mercime, then add the fine bulgur. Make sure there is some water left in the pot.
After finely mixing the bulgur into the lentil, cover the pot and leave to rest for 10-15 minutes.
Chop the onion and cook with olive oil in a frying pan until the onions are tender. When the onion softens, add the tomato paste, roast it until the tomato paste smells, set aside and add the dry spices and mix.
Put lentils and bulgur in a large bowl and pour the mortar you prepared on the pan. In this case, knead until the grout becomes thick. Add the finely chopped parsley and spring onions and knead again so that they all come together, turn them into a serving dish.
If you wish, you can decorate with lettuce leaves.
Bon Appetit