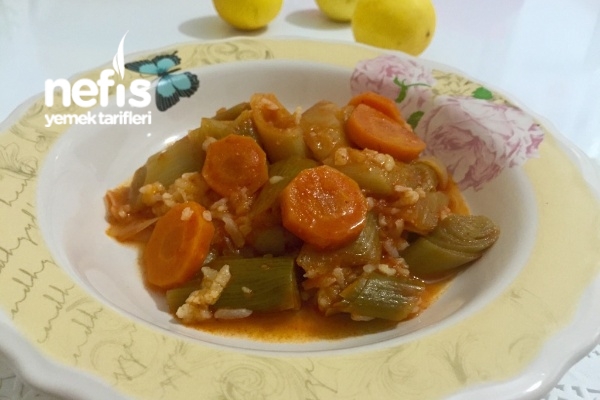 <br />
Materials for the Definition of Leek with Olive Oil
1 kg leek
1 large length onion
1 large length carrot
1 tablespoon of rice
Salt-lemon
4-5 tablespoons of olive oil
1 tablespoon pepper + tomato paste
Definition of Leek with Olive Oil
We wash the leeks and straighten them not to be too large (I use the thick part of the common, you can make a cheese salad from its thin leaves)
We straighten the carrots round. The onion is also in the form of small cubes.
We put our oil in a pot on low heat and add the onions and mix it with a few or two, then add the tomato paste and carrot and fry it a little. Then we add the leek, mix and close the lid. The leek will cook a little with its own steam. 8-10 minutes in this case, we control it by mixing it occasionally, then we add hot water gradually. (If you add the water little by little, your leek won't crush and disperse)
We add the rice and salt close to cooking. We inspect the leek once in a while and take it out of the stove, you can add lemon juice compared to your taste.
We serve warm.