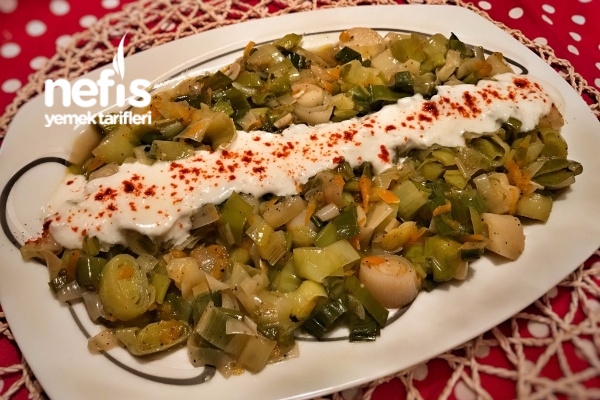 <br />
Tools for the Definition of Leek Roasted with Carrot Yogurt
1 kg leek
1 carrot
1 medium onion
2-3 cloves of garlic
A little bit of olive oil from a half tea glass
Half a glass of water
Pepper
Take powder pepper
Salt
For
Above:
Yogurt
1-2 cloves of garlic
Salt
Definition of Leek Roasted with Carrot Yogurt
A stylish alternative for those who do not have a good time with leek food ???? It is very light and nutritious. I definitely recommend you to try it.
Olive oil, diced onions, grated carrots and finely chopped garlic are added to the pan. Roast for a few minutes.
Washed and finely chopped leeks are added and roasted for 2-3 minutes.
Black pepper, ground pepper, salt and water are added, cooked 6-7 minutes with the lid hidden. It is taken to the service plate.
Garlic yogurt is prepared in the individual container, whipped and poured over the leek while serving.
Appetite ????