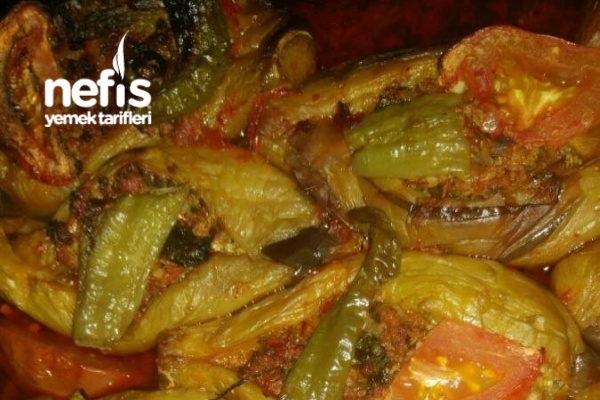 <br />
Materials for Definition of Karnıyarık (Must Try)
10-15 medium eggplants
Oil for frying
For:
300 g fatty ground beef
1 tomato
1 onion
1 green pepper
1 teaspoon of mixed tomato paste
Less than half a link of parsley
Salt, Pepper, Cumin, Black Pepper
For the sauce:
1 tablespoon of mixed tomato paste
1 glass of water
Karnıyarık (Must Try) Definition Definition
Before we peel the eggplants, we pass them through the water and rinse properly. I prefer the pajamas and cut the middle without browning. In the hot oil, we turn it until both sides turn color. We set aside the eggplants we bought from the oil to cool. We chop the onions with tomato and pepper and mix them. We put the minced meat into our Teflon pan and turn it a little. Then we mix it with the remaining tools and leave very little liquid oil in it. Because the meat must draw its own fat first. We fill it with eggplants and place them on our tray. For the sauce, we mix the tomato paste with the water and pour it into the blanks in the tray. I leave tomatoes and peppers to decorate. When we put the sauce in the oven, it means our meal is ready. Bon Appetit.