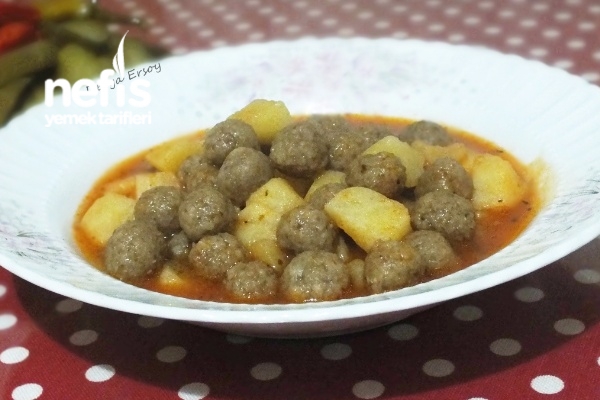 <br />
Materials for Definition of Juicy Meatballs (Kırşehir)
300 grams of minced meat
1, 5 tea glasses of node (fine sterility bulgur)
1 egg
1 tablespoon flour
1 nectarine
Pepper
Al pulbiber
Mint
Cumin
2 potatoes
1 tablespoon tomato paste
Juicy Meatball (Kırşehir) Definition of Making
We add minced meat, knives, eggs, flour, grated nectarine, spices and salt to our kneading bowl and knead it sufficiently.
Then we roll the meatballs in the form of small marbles, let's roll as little as possible as it will swell while cooking.
Let's put 5-6 glasses of water in our pot, sprinkle a pinch of salt and add the small chopped potatoes.
After the potatoes are cooked, add the meatballs after cooking for 10 minutes, roast the tomato paste and mint in a different pan and add it to the pan for 5 minutes. Bon Appetit.