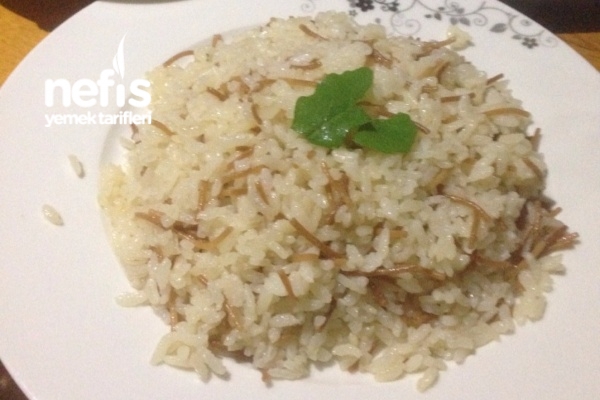 <br />
How to Make Grain Rice Pilaf (Wire Noodle) Tools for
2 tablespoons of fat
1 tablespoon butter
slightly less noodle than 1 tea glass
2 cups of rice
Boiling water
Salt
1 sugar cubes (for one grain)
2-3 drops of lemon juice
How to Make Grain Rice Pilaf (Wire Noodle)
Hello ladies, the easiest way to make grain pilaf ????????????
First of all, when you make rice pilaf, if you are a chicken maker, do not throw away the water or the oil left at the bottom of the pot after boiling.
???? First, if we have our oil in our rice pot, add the remaining oil from our chicken, add the rice you have washed until the white water comes out.
???? If our rice has started to pour grains now, it is enough for you to roast it, then pour our boiled water until it passes a little over our rice, let's mix it a little bit and let the salt be low, add salt.
???? Let's cook until the water is low on low heat.If your rice remains a little alive after the water is over, pour your hot water with a spoon, apply it to the legs, but if you mix it, it will be porridge if you mix it.
???? TO MAKE YOUR PIG BRIGHT; Squeeze 2-3 drops of lemon juice 🙂
???? To make your rice one of the grains; leave a sugar cube in the middle, but add it after throwing your salt :))
ENJOY YOUR EXPECTATION :))