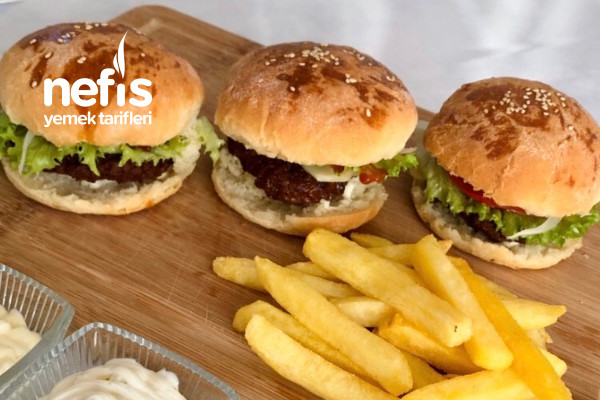 <br />
House Manufacturing Materials for Delicious Hamburger Definition
For hamburger bread:
1 tea glass of milk (warm)
1 tea glass of liquid oil
1 packet powder yeast (instant)
1 tablespoon of sugar
1 teaspoon salt
1 tablespoon butter at room temperature
1.5 cups of water
Flour as much as it gets
To spread on the bread:
For patties;
250 gr minced meat
1 teaspoon salt
1 teaspoon of black pepper
1 grated onion
1 teaspoon baking powder
To fry with you:
To put in the burger:
Tomato
Onion
Lettuce
Cheeses
Ketchup
Mayonnaise
To fry meatballs and potatoes:
Housing Production Definition of Delicious Hamburger
First, let's mix the yeast with sugar and milk and then knead it until it becomes a dough that sticks to the soft hand and add informal materials.
Let's cover and wait for it to be fermented, while preparing the necessary ingredients for the meatballs, knead our meatballs and prepare all the ingredients we will put in our hamburger.
Let's divide our fermented dough into cloths and arrange them on our baking tray with greaseproof paper.
Let's cover it for 15 minutes and ferment it again, then let's cook egg yolk and sesame without pressing on them until we cook it in our oven, which we heated 200 points before, until it turns red.
Let's bake our meatballs and potatoes after our breads are baked and the heat comes out.
Let's split our breads horizontally in the middle, and at the bottom will be mayonnaise, let's squeeze and cover the meatballs, cheddar slices (very thin), lettuce, tomatoes, onions and finally our ketchup.
And enjoy our burgers to everyone who will try it ready for service, love :).