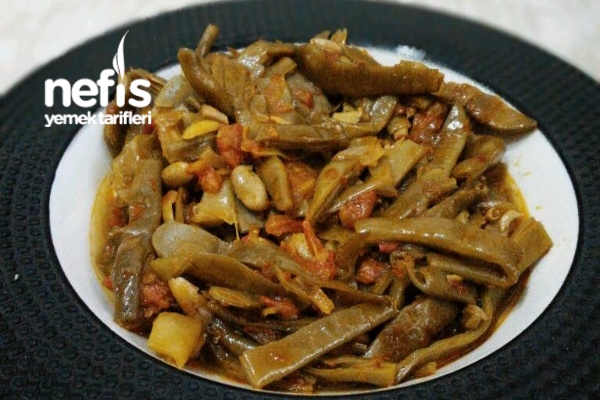 <br />
Materials for Green Bean Definition
2-3 tablespoons of liquid oil
1 tablespoon of pepper paste
1 medium onion
Half a kilo of green beans
2 large tomatoes
3-4 cloves of garlic
Green Bean Definition Preparation
First of all, we roast the onions that we chopped with oil, and add the tomato paste when it turns slightly pink.
We add our tomatoes after a little roasting.
Then add the beans and roast.
After roasting for another 5-6 minutes, we add boiled water to the top of the dish and add the garlic, which we chop in medium thickness, and leave the dish to cook for half an hour on low heat.
Since my tomato paste is salty, I did not need to add salt. You can increase the salt setting optionally. (I still recommend you to be careful about excessive salt consumption for health.)
Note: If you want to prepare difrize green beans for winter, this dish is more practical 🙂
We wash the green beans that we bought, break them or cut them in half and cut them in half into the pot, peel the tomatoes on the season and cut them into cubes and cook them until the beans and the vegetables turn slightly on the stove. When it cools down, we put it right in the refrigerator bags as we deserve, knot its mouth and throw it into the freezer. It is only necessary to add our beans and water to the past after we have taken over and roasted onion and tomato paste 🙂
Bon appetite to those who will do it 🙂