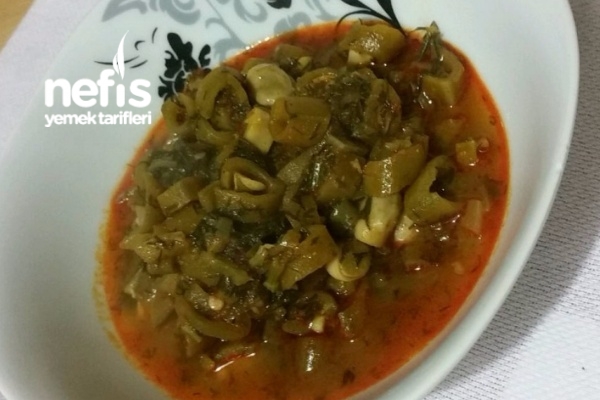 <br />
Equipment for the Definition of Fresh Pods with Olive Oil
Half a kilo of fresh broad beans
1 onion
2 cloves of garlic
1 tea glass of olive oil
1 bunch of dill
2 sugar cubes
2 pointed peppers (I used dessert)
2 tablespoons of tomato paste
juice of half a lemon
1 liter of water
Salt and pepper
Definition of Fresh Pods with Olive Oil
Greetings 🙂 I share with you my favorite dish with the most delicious olive oil I have learned from my grandmother 🙂 I make the Bakla meal which is one of the famous olive oil dishes in this way:
First of all, I cut the stalks of the pods and clean the bones and straighten. Then I cut the onion and garlic into cubes. I also correct my pepper.
I heat up my olive oil in the pot until it turns light green on my garlic and pepper. I add 2 spoons of tomato paste. And I continue to roast. I add the rinse and rinse for about 5 minutes, add 1 liter of water. I add the salt of my food to black pepper. Be careful, since it is salty in tomato paste 🙂 I am adding 1 bunch of fresh dill to which I chopped finely. I added 2 sugar cubes to make it look soft 🙂 I bake my food for about 15-20 minutes and check it and check the bottom of the stove 🙂 I rest my food and serve it with yogurt 🙂
can be served as an appetizer when our food gets cold 🙂
Enjoy your meal.