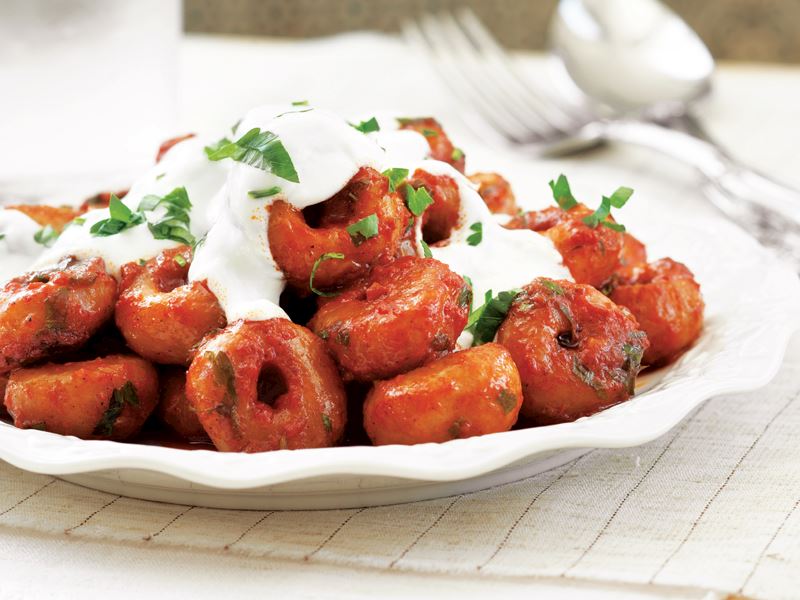 <br />
Means for the definition of fellah patties
For meatballs
2 cups of fine bulgur
2 cups hot water
1 onion
1 cup grits
1 egg
1 tablespoon tomato paste
3 ~ 4 tablespoons flour
Salt
Pepper
Cumin
Half a glass of water
For the sauce
2 cloves of garlic
1 cup of olive oil
2 tablespoons of pepper paste
1 tablespoon tomato paste
Salt
Pepper
1 bunch of parsley
For Above
Half a glass of yogurt
2 cloves of garlic
How to Make Fellah patties
Put the fine bulgur in a bowl. Add hot water and let it steep for 4 minutes. Meanwhile, grate the onions.
Add the onion and the remaining grated ingredients to the swollen bulgur. Knead until all the material is properly identified.
Cut and roll hazelnut-sized cuts from the mortar. Press the middle of the meatballs with your finger, shape the button and spread on a flour-sprinkled tray.
To prepare the sauce, fry the crushed garlic and paste in olive oil. When the smell of the tomato paste is removed, add half of the parsley you chopped from the stove and mix.
Put the sauce in a large bowl. Boil the meatballs in salted boiling water. When the meatballs begin to rise above the water, strain them with a colander and put into the bowl with the sauce.
Mix all the meatballs to the sauce and put the meatballs with sauce on a serving dish. With the garlic crushed on it, let the yogurt you whisked lightly.
You can serve the Fellah meatballs in the oven with vegetables. Enjoy your meal in advance.
What Are The Tricks Of The Original Fellah Meatballs?
The bulgur to be used in making Fellah patties is quite valuable. You can have the consistency of meatballs by using fine sterile bulgur.
To increase the taste of the meatball, you can rest the mortars you have formed in the refrigerator for 30 minutes.
When preparing the sauce, put the tomato paste and spices first. You can increase the aroma of garlic by putting the most enduring sauce.
While serving the meatballs, you can add a measure of pomegranate molasses to make it more frequent.
How Many Calories Are 1 Portion Fellah Patties?
Short-term fellah meatballs prepared with bulgur are about 120 calories in a 100-gram serving. You can also add low-calorie fellah patties to your diet list.
Lentil meatballs, which have approximately one-to-one calorie value, are also among the favorite recipes.

If you wish, you can browse the meatballs definitions that are preferred in the evening meals and main meals, which can be prepared with both meat and vegetables, and prepare them in a short time with tricks and service offers.