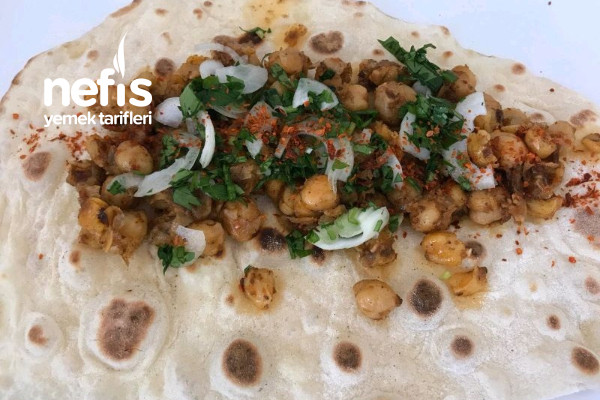 <br />
Materials for the Definition of Famous Chickpea Wrap in Gaziantep
1 cup chickpeas
3-4 cuts of fleshed bone
Salt
1 teaspoon of paprika
1 teaspoon black pepper
1 teaspoon cumin
Olive oil
1 onion
Parsley
Sumac
Lemons
Definition of Famous Chickpea Wrap in Gaziantep
Let's soak chickpeas 1 night before. Next day, let's put it in the pressure cooker with the bones.
Add boiling water and salt to boil for about 40 minutes. (It will change according to the type of chickpeas. However, it should be cooked as Turkish delight.).
Let's remove the boiled chickpeas.
Let's put olive oil in a frying pan and make it angry. Let's add black pepper, chili pepper, cumin and mix. Let's add the chickpeas and gently press them with a spoon. Let's crush the chickpeas a little. Not much, will not be about mashed.
Our chickpeas are ready. You can even eat in this format. But we will wrap it and sumac onion is a must.
For this, let's chop the onion. Let's add the parsley finely and add it. Finally, let's add and mix sumac.
We put some chickpeas on top of lavash and onion with sumac on it. Finally, we squeeze lemons and wrap it and enjoy it.
I have been living in Antep for six years. As far as I learned from Antepliler, I gave the definition of chickpea wrap, which is indispensable for their breakfast. The feature of this is boiling in bone broth. You won't believe its flavor. Bon appetit to everyone to try ????.
You can also find the definition of lavash on my page ????. Yes, it is eaten for breakfast in Antep ????????????.