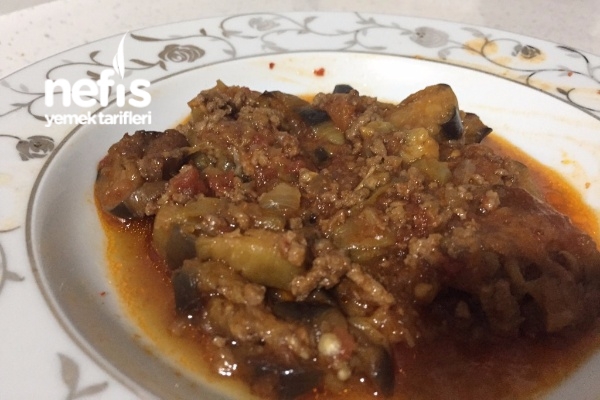 <br />
Materials for Definition of Eggplant Moussaka
5 eggplants
400 grams of ground beef
4 peppers
4 tomatoes
1 tablespoon tomato paste
3 tablespoons of liquid oil
2 onions
Salt
Eggplant Moussaka Definition Preparation
We leave the eggplants in salted water for hours to peel them and release the brackish water. And then we take it on paper towels to lightly fry and remove the oils.
Internal fee;
First we put the minced meat in the pot, when the color changes, we throw the oil and the onion we grate and roast it. When the onions are roasted, we continue to add the peppers we chopped and continue to roast. After roasting in peppers, we also add tomatoes and a spoonful of tomato paste, which we peel and cut into cubes. We cook the tomatoes until they release the juice. After the tomatoes absorb the water, we add half a glass of boiling water and salt and continue cooking. We cook until slightly juicy.
We lay the eggplants we fried in the pot, pour the mortar we prepared on it and we put the eggplants on it again. We add 1 cup of hot water and cook over low heat for 20 minutes.
Bon Appetit ????