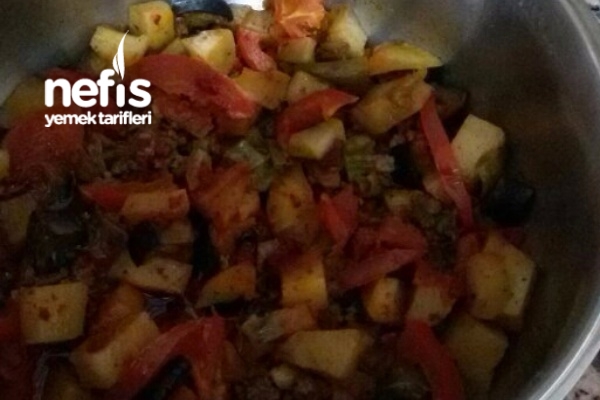 <br />
Materials for Definition of Eggplant Moussaka
2 medium eggplants
2 medium length potatoes
2 pointed peppers
1 tomato
1 nectarine onion
A few cloves of garlic
250 grams low-fat ground beef
Pepper paste
Salt
Chili peppers
Cumin
Thyme
Eggplant Moussaka Definition Preparation
We chop the eggplant, potatoes and green peppers, cut them in cubes, and fry them on a plate.
In the pan, where we put some liquid oil, we roast the minced meat and finely chopped onion, adding garlic and spices.
We take a medium length pot. We spread the vegetables that we have fried on the base. We put our minced meat on it. Then we lay out the remaining vegetables on minced meat.
We put the tomato paste water, which we prepared in half in a glass of water, in our saucepan.
Finally, we garnish finely chopped tomato slices on the dish and leave it on the stove for cooking.