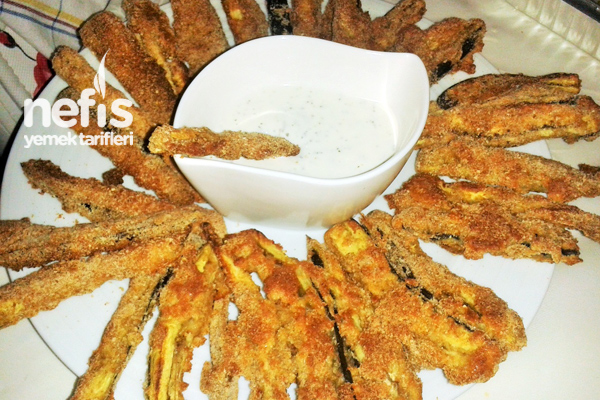 <br />
Materials for Definition of Eggplant Crispy
2 eggplants
1 tablespoon whole wheat flour
Half tablespoon of olive oil
Salt
Garlic powder
Chili peppers
Thyme
2 eggs
Bread crumbs
For the sauce;
3-4 tablespoons of yogurt
1 teaspoon mayonnaise
Salt
Mint
Definition of Eggplant Crispy Preparation
We peel the eggplants variegated, cut them for a long time and put them in salt water and squeeze them. We put it in a bowl and add whole wheat flour, olive oil, salt, chili pepper, garlic powder (if not it is not the rule), thyme. We blend them all. We whisk the eggs in another bowl. We dip the eggplants in egg and bread crumbs and place them on a baking sheet with greaseproof paper. We cook until crispy.
We mix yogurt, mayonnaise, low salt and mint for the sauce.
We dip our delicious crispy eggplants into the sauce and eat them. Try a perfect definition definitely.