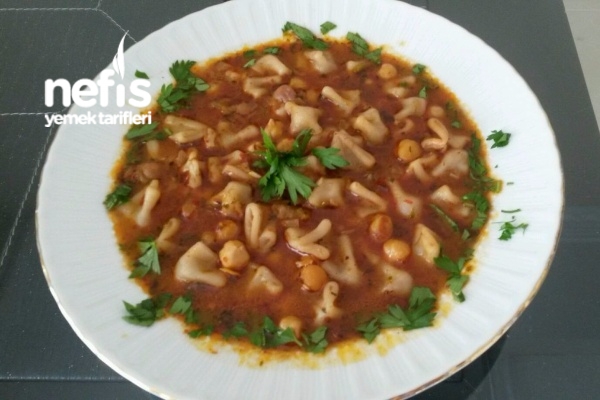 <br />
Dishes for Definition of Duchess (Sour Manti Sulusu)
2 cups ready ravioli
2 cups of boiled chickpeas
1 medium onion
1 small green pepper
3 cloves of garlic
1. 5 teaspoons salmon sour
1 tablespoon of pepper paste
Dried mint, salt, pepper, paprika
Dushbere (Sour Manti Sulusu) Definition of Making
We cut the onion and green pepper tiny. We leave a little liquid oil and roast for two minutes. Add a tablespoon of tomato paste and fry a little more. Adequate cooking of tomato paste will give a sour taste.
1. We leave 5 liters of boiled water and boil in the pot for another 7-8 minutes.
We add the ravioli and chickpeas. We also throw the salt and cook for 20 minutes.
We roast the garlic we crushed in another small pan with a little liquid oil, but we don't burn it too much. After we cover it, we put a teaspoon of dried mint on the garlic. In other words, it is a little reddened in oil.
Our mint garlic is about 20 minutes. We add to our cooking water. We also leave the salmon sour.
For the taste of sour garlic, we boil it for another 2-3 minutes and cover it.
we add some black pepper and find pepper. We rest the pot with the lid closed for 10 minutes.
We can serve it with parsley.
BON APPETIT