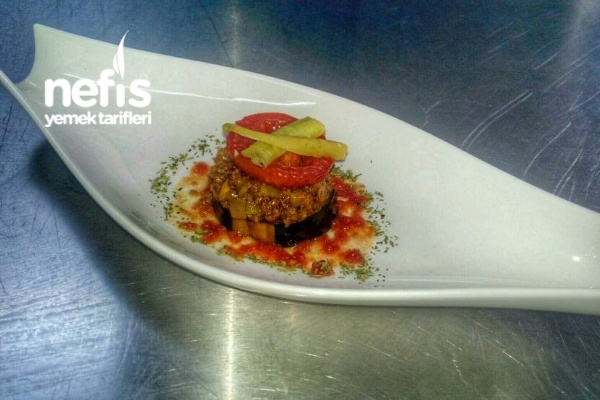 <br />
Tools for Definition of Eggplant Moussaka
5-6 eggplants
1 cup of liquid oil (for frying)
500 gr minced meat
2 onions
1 kg of tomatoes
1 tablespoon of pepper paste
Salt, pepper, ground pepper
2-3 tablespoons of oil
For
Above:
5 tomatoes
5 pieces of green pepper
Half a bunch of parsley
Eggplant Moussaka Definition Preparation
Eggplants are peeled and peeled and cut in the form of round circles with a thickness of 2 cm. Sprinkle salt on them and wait in the water for about 20 to 30 minutes. Then it is washed with cold water and dried.
Eggplant in the superheated fat is turned upside down and fried until golden color. The paper is removed on a napkin.
Put oil in a pot. Minced meat is added. Roasted. Then finely chopped onions are added. Tomatoes, salt, pepper and powder pepper are added. If desired, 1 tablespoon of pepper paste is also added. The hearth is reduced to six. It is boiled until it absorbs the mortar water over a slow fire. Half of the eggplants are laid in a baking dish. Half of the minced mortar is put on it. The remaining eggplants are placed. The last minced mortar is put. Round chopped tomatoes and peppers are placed on them.
Put the tray in a preheated 180 ° C oven and cook on average 25-30.
Before applying the tray to the oven, tomato or tomato sauce is made and poured on it, or a tomato bed is made at the bottom.