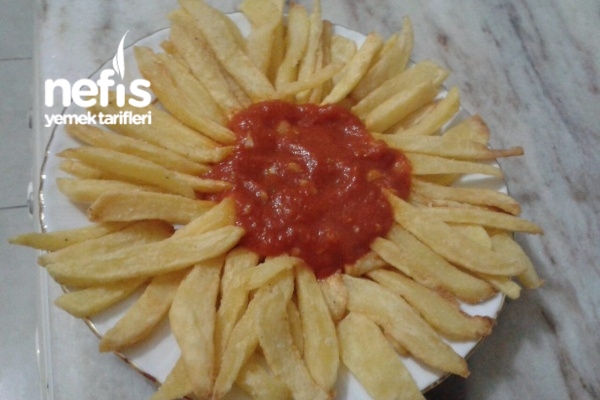 <br />
Materials for the Definition of Crispy French Fries
Potato
1 tablespoon starch
2 tablespoons flour
1 packet baking powder
Salt
Liquid oil for frying
5 drops of lemon juice
For the sauce:
1 tomato
3 cloves of garlic
3 teaspoons of liquid oil
2 tablespoons of water
Crispy French Fries Definition Definition Made
We peel the potatoes, straighten them in the form of matchsticks and wash them in a strainer. Let's mix flour, salt, starch and baking powder in a deep bowl. Let's heat our oil, if the potatoes are not completely dried, let's dry with towel paper and pour it into the flour mixture and throw it into the hot oil with lemon. Let's cook by stirring occasionally. Spread a towel on the plate and put the fried potatoes on it so that it contains a lot of oil.
We put 3 teaspoons of liquid oil in the pan for the sauce and take it to the stove, peel it, add the diced tomato and roast it with 3 cloves of garlic. When the tomato releases itself, we add 1 teaspoon of tomato paste and water and mix it a little, then remove it from the stove. We lay the potato on the plate in the form of the sun and spread the sauce. Bon Appetit. 🙂
NOTE: I did not specify the size of salt, because everyone has a different proportion of salt. Arugula salad, Green lentil soup, Crispy potatoes, pickles, pickles, household production yoghurt and tandoor bread were a perfect menu for me.