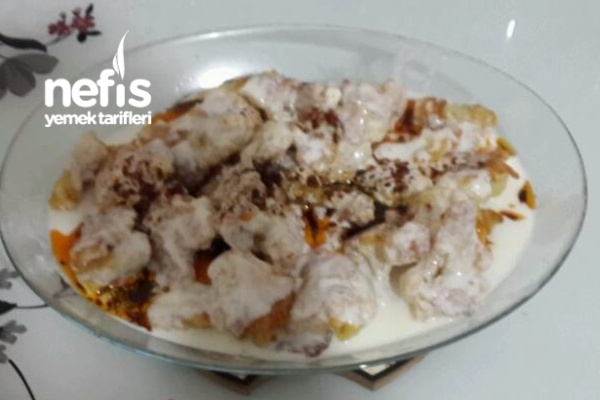 <br />
Materials for the Definition of Crispy Cauliflower Yogurt (Delicious Flavor)
1 medium cauliflower
1 cup flour
3 eggs
1 bowl of yogurt
2 cloves of garlic
Half a tea glass of liquid oil
1 teaspoon of mint
1 teaspoon pulbiber
Salt
To fry cauliflower;
Crispy Cauliflower Yogurt (Definition)
Hi girls, I came after a long time;)
This definition is so delicious that you will eat your fingers. 😉
First, let's start by cleaning our cauliflower. Let's throw our cauliflower, where we cut flowers and flowers, to the boiled water with 1 teaspoon of salt and boil. It doesn't need to soften too violently. Let's whisk 3 eggs while our cauliflowers are boiling. Let's set 1 bowl of flour and wait for our cauliflower to boil. After boiling our cauliflowers, it was time to fry. Let's take the oil to the pan as needed. Let's get angry enough. Let's throw our cauliflowers, which we have smeared properly in the egg, and then in the flour before the oil is properly fried. And let's cook until golden brown. Before the cauliflower ends, let's put the eggs in a deep dish after making the flour process. Then whisk our kneading properly. Let's grate our garlic into it. And it's time to combine cauliflower and yogurt. Let's spread our kneading with spoon on our cauliflower which we put on the serving plate. I say do not yogurt too much 🙂 Don't let the cauliflower taste die. Because it becomes a delicious crispy cauliflower. Then let's take our liquid oil into the pan. Let's throw our peppermint and pulp pepper into 1 -2. And let's move it well over our cauliflower.
Yes girls, our delicious taste is ready. Especially, I recommend you to try the tomato sauce dishes. . 🙂
Enjoy your meal already.