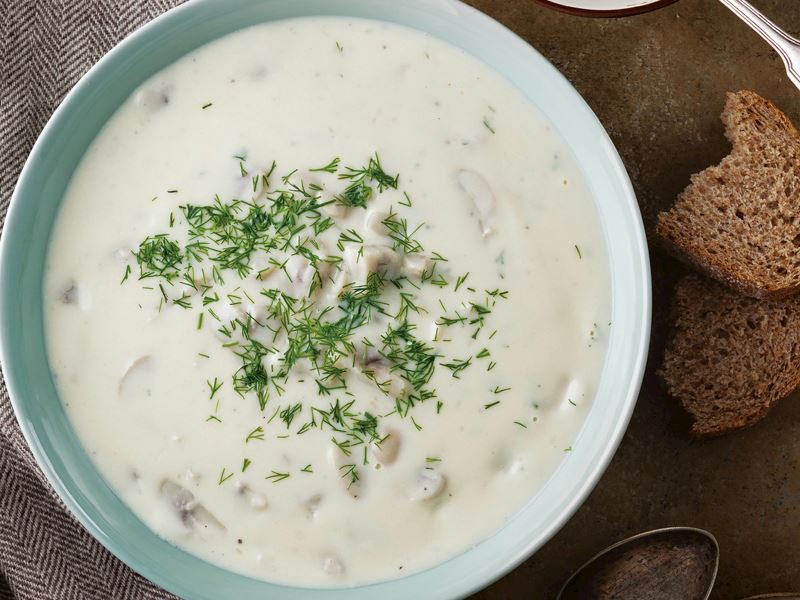 <br />
Ingredients for the definition of creamy mushroom soup
Materials
500 g cultivated mushrooms
2 tablespoons butter
2 cloves of garlic
2 tablespoons flour
4 cups of water
200 ml cream
Salt
Pepper
For Above
How to make creamy mushroom soup
First rinse the mushrooms in plenty of water and drain. Then cut the mushrooms in large form and sauté them in butter for 3-4 minutes.
Finely crushed garlic and flour, add the mushrooms to the sauté and fry until the flour turns color.
Always mix and add water gradually to avoid lumps. Season with salt and pepper and spices you want and boil.
Finally, add the cream into the condensed soup and cook for another 7-8 minutes on low heat.
After cooking, remove the soup from the stove. Garnish with finely chopped dill and parsley.
You can serve the creamy mushroom soup with fish dishes. Enjoy your meal in advance.
What are the Tricks of Creamy Mushroom Soup?
To make the mushroom more delicious, peel the outside and clean it with a damp cloth before washing. Then rinse in water.
Allow the mushroom to release the water during the roasting. Otherwise, the consistency of your soup will deteriorate.
Intelligently adjust the oil size while at the beginning of the description. Use the measurements in the description, as it releases the mushroom oil later.
During the roasting process, cut the bottom of the stove, which is on medium heat, after adding the cream and close the lid of the pot.
How Many Calories Are 1 Portion Creamy Mushroom Soup?
One serving of 100 grams of mushroom soup is about 70 calories. You can add the creamy mushroom soup with its low calories to your diet lists and sweeten it with sauce types.

If you want to enrich the start menus, you can take a look at the soup definitions. If you wish, you can also try the definition of high protein tripe soup. Do not forget to share the definitions you like with your loved ones.