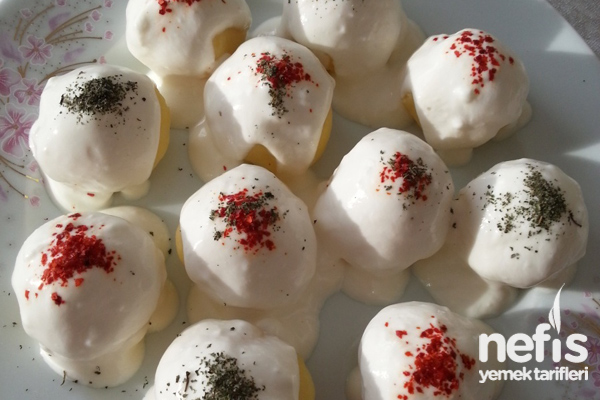 <br />
Equipment for the Definition of Colorful Potato Balls
3 medium potatoes
Chili peppers
Mint
Cheddar cheese grated
Butter
Yogurt
Mayonnaise
Salt
Definition of Colored Potato Balls
Potatoes are peeled and boiled. Boiled potatoes are crushed while hot, add a tablespoon of butter and cheddar (according to your taste (I put 1 cup of tea)) and mix until it becomes a good dough. I knead hot hot that hengam is getting a smoother puree. Make a mixture of potatoes, butter and cheddar, which are properly identified, in the desired size and place them on the serving plate.
Yogurt is whipped in a bowl. (If your yogurt is juicy, you can add a little mayonnaise to condense it and make it tastier, or you can only use strained yogurt.)
We pour the yoghurt mixture on our potato balls, decorate it with chili peppers and mint and add flavor to its taste. Bon Appetit.
Note: Add the salt to the velvet potato and velev yogurt compared to your mouth taste.