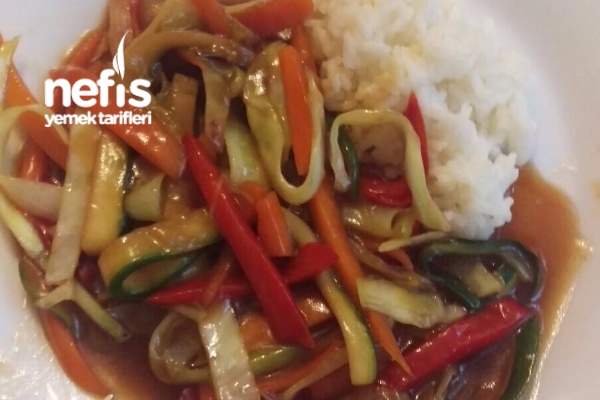 <br />
Tools for Chinese Vegetable Pan Definition
Use the vegetables in your preferred house 🙂 I used the following vegetables.
some White Cabbage
a little leek
2 Carrots
1 pumpkin
Buy 1 Pepper
100-150ml soy sauce
Half tablespoon starch
Liquid oil
(You can also use chopped chicken breast – if used, chicken breast is fried first, then vegetables are added on it)
Chinese Vegetable Pan Definition Definition Made
Finely chop all the vegetables and fry them in our heated greasy (I used 2 tablespoons of oil). We fry the vegetables quickly because we love the vegetables a little hard.
Some Black pepper and garlic powder or hot pepper can be added. We have added :).
Mix soy sauce and starch and pour over the vegetables. If the sauce is rather dark, add some water and our Chinese vegetables pan is ready :).
I didn't add salt because I use soy sauce, but it depends on everyone's taste.
Rice pilaf with it.
Enjoy your meal :).