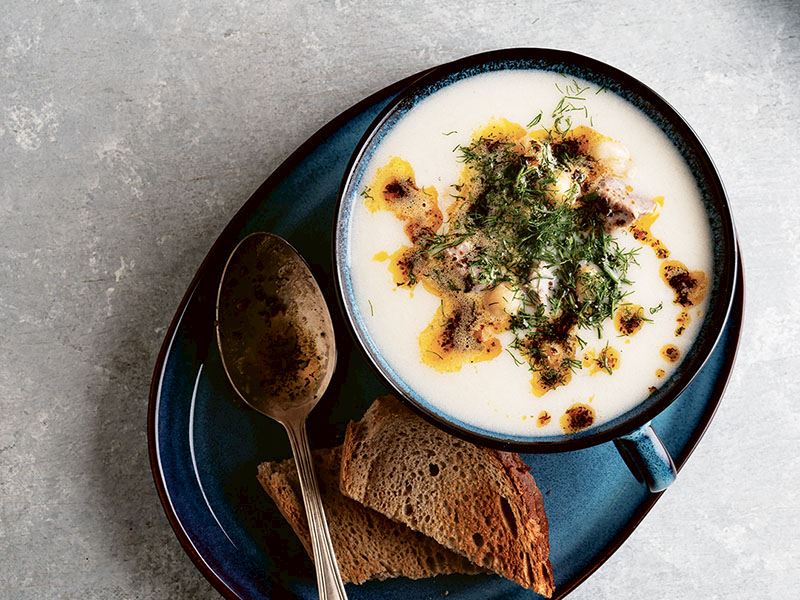 <br />
Ingredients for the definition of chickpea soup
1 cup strained yogurt
2 tablespoons flour
1 cup boiled chickpeas
100 g lamb (chopped in dice form)
8 cups of water
1 tablespoon of chopped dill
1 teaspoon of mint
1 tablespoon butter
Half a teaspoon of paprika
Salt
How to Make Chickpea Soup
Step by Step Chickpea Soup Production:
Known as the homeland of the Anatolian and Mediterranean states, chickpeas are grown mostly in Central Anatolia in our country. This food, which is frequently used in Arabic cuisine, provides long-term satiety. It contains abundant protein, calcium and fiber. In addition to lowering the max cholesterol, blood sugar level is stable. It is among the foods recommended for diabetics. If your ingredients are ready, we can start the definition of chickpea soup, which you can offer in the start menus.
Put the meat in the pot, add water on it and boil. After boiling the meat, take it through the water and strain it. Leave the water to warm.
Whisk the strained yogurt, flour and warm broth with a whisk in a saucepan to a smooth consistency. Put the pot on the stove and leave to boil.
When it boils, add chickpeas and meat and cook on low heat for 15 minutes. Add dill and mint in it and cover the bottom of the stove. Add salt to the last so that the soup is not cut.
Melt the butter in a sauce pan and lightly fry the chili peppers. Roll the buttered pepper over the soup and serve hot.
You can serve chickpea soup with rice pilaf. Enjoy your meal in advance.
What are the Tricks of Chickpea Soup?
If you have time, soak the chickpeas in the water overnight. So it will cook faster.
Cooking meat and chickpeas in a pressure cooker will shorten the maturity.
Mix the soup with the wooden spoon. To prevent scale formation, you can pass it through the mixer once.
While preparing the sauce, you can add spices such as thyme and mint.
Add the sauce of the soup during serving.
How Many Calories Are 1 Portion Chickpea Soup?
One serving of chickpea soup is about 65 calories. You can add this definition with high proportion of fiber to diet lists.
Looking for practical soup descriptions that you can offer before main meals? Check out the definition of delicious bean soup that will warm you up in the winter months.