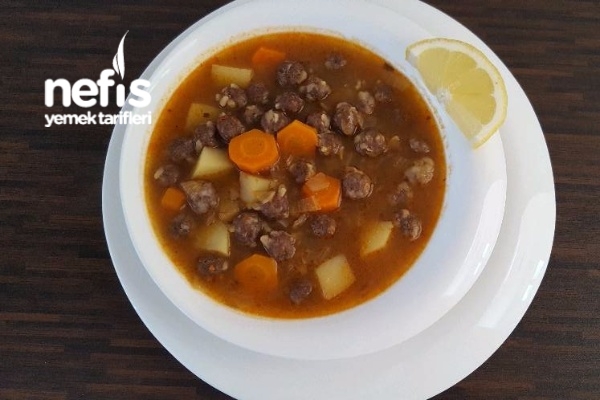 <br />
Materials for Definition of Succulent Meatballs with Carrot Potatoes
For the meatballs;
250 grams of minced meat
2 cloves of garlic
1 handful of bulgur
Salt, pepper
The rest;
3 -4 medium potatoes
1 medium onion
2 carrots
1 tablespoon tomato paste
Liquid oil
Salt, pepper, pulbiber
Hot water
Definition of Meatballs with Carrot Potatoes
Hello friends, juicy dumplings crop now. ????
First, we start with our meatballs. We mix 250 grams of minced meat, 2 cloves of shredded garlic, a handful of washed bulgur, a teaspoon of salt, half a teaspoon of black pepper, and knead it well and roll it into cherry-sized balls.
Put the meatballs that you roll into a tray with flour and roll over it so that they do not stick together and if you shake the tray, your meatballs will be covered with flour.
We now roast our chopped onions, cubes, chopped potatoes and carrots in a liquid oil in a pot.
After a little roasted, we continue roasting with a tablespoon of tomato paste and add 3 liters of boiled water on top. (It may be less or more than desired, but definitely enough to surpass it).
We throw the meatballs that we roll into our boiling food one by one, add the salt, black pepper and chili pepper and boil until the ingredients are cooked on medium heat.
If you like juicy food sour, you can squeeze half a lemon while cooking, or serve it with lemon.
Bon appetit honey ????