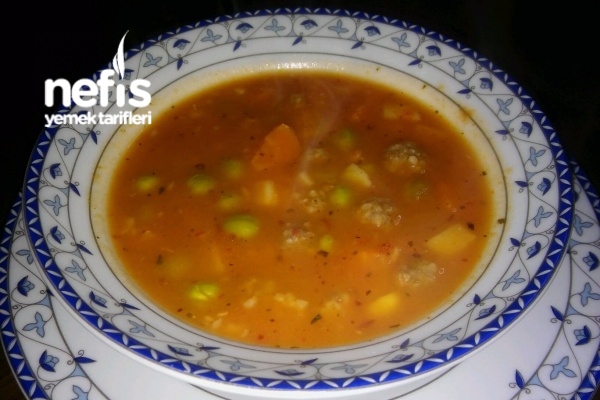 <br />
Tools for the Definition of Carrot Pea Food
2 carrots
5 tablespoons of peas
5 tablespoons of soup noodles
2 tablespoons tomato paste
1 tomato grater
1 tablespoon flour
Mint
Salt
Butter
For patties:
200 grams of minced meat
1 small nectarine
1 tea glass of fine bulgur
Flour (to float the tray)
Carrot Pea Food Description Definition
Small meatballs are prepared before.
Minced meat, blender dried onion, spices, fine bulgur are kneaded in deep bowl. Small balls are made from the ball and thrown into the floured tray. The meatballs are floured by moving the tray back and forth.
Carrot, chopped in a deep pot,
peas are boiled with 5 glasses of water.
For sauce:
Puff pan is roasted with butter in flour. Tomato and tomato paste are mixed in a bowl. Roasted flour is poured into the tomato sauce. Crushed in the blender.
Tomato sauce and salt are poured into peas with carrots boiling in the pot and mixed. After cooking the carrots in the pot, the noodles are added.
After cooking, you can serve it with garlic yogurt and mint.