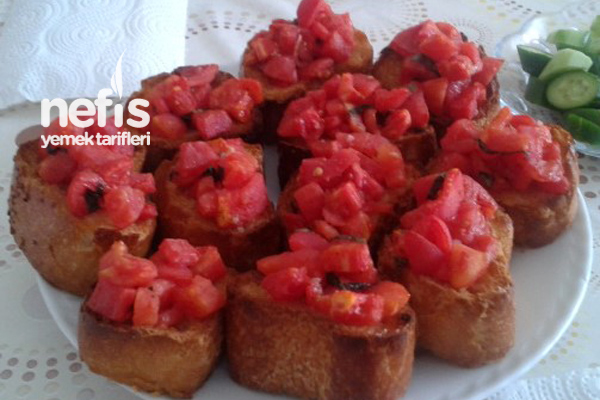 <br />
Equipment for the Definition of Bruschetta with Tomato and Basil
6 or 7 large tomatoes
2 cloves of garlic (If you like garlic, there may be 3)
1 tablespoon extra virgin olive oil
6-8 basil leaves
1 teaspoon salt
1/2 (half) teaspoon black pepper
1 piece of baguette bread
60 ml olive oil
Definition of Bruschetta with Tomato and Basil
Let's boil 2 liters of water in a pot. While the water is boiling, let's throw cross scratches on our tomatoes (it will make them easier to peel.) After the water boils, let's cover the bottom and throw the tomatoes into the water. After soaking in water for 1 minute, let's take the tomatoes out. When they cool, let's peel the tomatoes.
Let's set the oven to 230 ° C in the meantime. We will use Rack 1 as the Rack.
Then let's cut the tomatoes into cubes. Let's put the cut tomatoes in a bowl and add 1 tablespoon of extra virgin olive oil and garlic and add and mix. Let's cut our basil thinly. Next, let's add our salt, pepper, basil and mix again.
Let's slice the bag not too thick. Let's apply olive oil to both sides. Let's put the bread in the oven. Let's take it out of the oven after 2-3 minutes. Let's pour the mixture we prepared on the bread. In the meantime, let's lower the oven temperature to 180 ° C. Then let's put it back in the oven. It will be ready after 8-10 minutes. If you want, you may not put it in the oven again, but I think this type is more stylish. Bon Appetit.