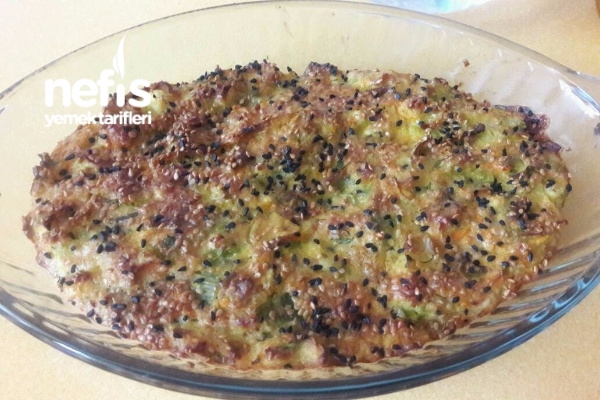 <br />
Materials for the Definition of Baked Leek
White part of 3 leeks
1 carrot
1 green pepper
1 pinch of parsley
1 pinch of dill
2 eggs
2 tablespoons flour
1 teaspoon baking powder
4 tablespoons of liquid oil
2 tablespoons of curd cheese
2 tablespoons of white cheese
Salt
Sesame
Black cumin
Leek Definition Made in the Oven
Leeks are washed and cut in half finger thickness.
Carrots are peeled and grated.
Pepper is chopped for cooking.
Liquid oil is taken to Teflon pan or saucepan.
After the oil warms, carrot and pepper are added to the leek in turn.
Stir
by stirring for 5 minutes.
Leeks taken from the stove are left to cool.
Other materials are added and mixed on the cooled leeks.
Let's take our tools into our debt in portions.
Sprinkle sesame seeds and black seed on it.
Let's put it on the middle shelf of our oven which was heated 180 ° for 5 minutes.
Let's take it out of the oven when it is red.
Enjoy your meal. ????????????