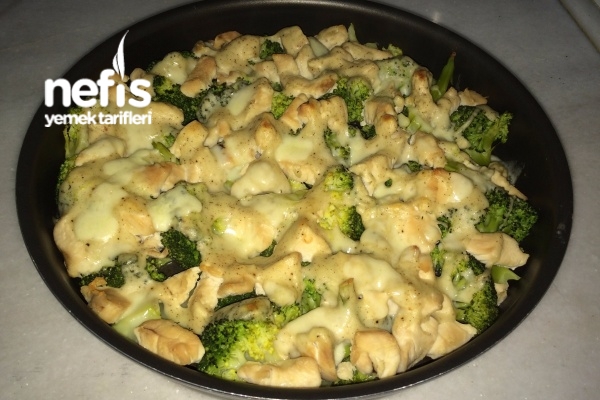 <br />
Equipment for the Definition of Baked Chicken Broccoli
1 large length broccoli
2 chicken breasts
Tulum cheese grated
For bechamel sauce:
2 tablespoons of olive oil
2 tablespoons flour
2, 5 cups milk
Pepper
Muscat
Baked Chicken Broccoli Definition Definition
We boil the broccoli for 5 minutes and get its hardness. We chop the chicken breast in a frying pan and cook it in a frying pan until it drains. We take both of them on the baking sheet.
We prepare béchamel sauce in another pan. We roast the flour in medium oil for a few minutes over medium heat. We slowly pour the milk at room temperature on it and just whisk it at once. We cook for 5 minutes without stopping the mixing. When it starts to get a thick consistency, we add black pepper and grated nutmeg to the sauce. When the ash begins to condense, we pour it over the broccoli. We bake in the oven for about 15 minutes. We pour our grated cheese on the broccoli we take out of the oven. (I did not prefer cheddar because it is rather fat, but it would be more elegant with cheddar cheese.) We put it in the oven again and cook it until the cheese melts. We serve hot hot.
Bon Appetit 🙂