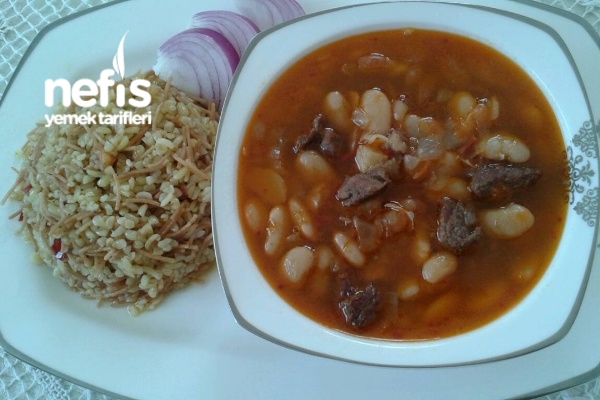 <br />
Materials for the Definition of Meat Beans in Pots
2 cups dried beans
500 grams of cubed slightly fatty meat (I used mutton)
1 large onion
Half a tea glass of liquid oil
Half tablespoon of pepper paste
Powdered pepper
Pepper
Salt
Hot water for the whole stage
Definition of Dried Meat Bean in Saucepan
The beans are washed and taken into a deep saucepan. Hot water is added to pass it abundantly. And it is left to boil over high heat or medium heat. (I boiled in the electric stove.) It should be checked from time to time and mixed with spoon. And the hardness should be checked by breaking one of them with a spoon. If it is not boiled very well, the beans will not reach the desired taste. The next stage is actually very easy and practical.
We take the meat in the pot where we will cook and add enough hot water to pass a few fingers. And we cut the water and let it boil until the meat sticks to the pot. Roasting meat in this way gives the food incredible taste. The meat should not be stiff, it should be cooked sufficiently, if necessary, water slope should be applied and the process should be applied again.
Add diced onions and diced onions. Oil is added. And roast the onions until they turn color. Let's add the tomato paste and salt and mix. Then add the boiled beans and mix lightly. We add a little hot water and powdered pepper and black pepper. Since the ingredients inside are actually cooked, we do not make water slots. We boil for 15-20 minutes until the color of the water on it intensifies. The beans will be sufficiently spread in water, that is, they will be grain and swimming. If the beans are still at the bottom, boil a little more. Then rest and serve.
** You need to scatter your mouth while boiling the meat. And beans shouldn't be hard. You shouldn't put water too much. If you pay attention to these 3 tips, you will reach a truly complete taste.
A flavor that will warm ourselves in cold winter days and its taste is also perfect.
Bon appetite to those who will try. ????